Walter (Walt) Kenneth Wilson III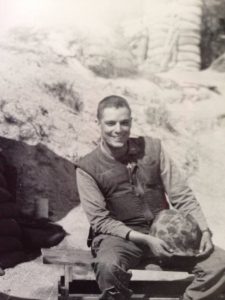 We are sad to announce the passing of Walter (Walt) Kenneth Wilson III of League City. He died at age 94 on October 5.
Born in Tucson, AZ to Walter and Leona Wilson, Walt led his three younger brothers on adventures from collecting horned toads to feeding kerosene to chickens. Walt further developed his capacity as a leader through his service in the US Marine Corp where he earned two Purple Hearts and a Bronze Star among many honorable distinctions. Walt went on to receive a Bachelor of Arts and Music from Southern Methodist University and worked as a food inspector for the Food and Drug Administration.
His exemplary work and broad experience positioned him in the sights of NASA's initial recruitment efforts where Walt worked as a Computer Software Engineer on missions from Apollo through the International Space Station before retiring.
He is survived by his wife of 62 years, Delores Robson Wilson, and his daughter Vickie Wilson Farnsworth, his brother-in-law John (Gaylene) Robson, sister-in-law Brenda (Mike) Robson Stone, his nieces and nephews Karen (Mike) Wilson Quimby, Stephanie  Robson, Jeff Stone, and Steven (Jessica) Stone; his grandchildren Morgan (Alex) Poll, Adam (Heather) Farnsworth, and Brian Farnsworth, as well as his five great grandchildren.
Services will be held at the Crossings retirement community on Friday at 2:00 PM, October 14, 2022 followed by internment at Galveston County Memorial Cemetery in Hitchcock on Saturday October 15,2022 at 10:00 AM.