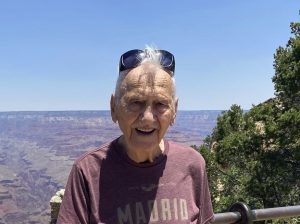 Walter (Walt) Gaylor passed away July 6, 2022, twenty-five days shy of his 94th birthday. He was at his home in Taylor Lake Village, Texas.
Walt was born in Brooklyn, New York on July 31, 1928, to parents George and Edna Gaylor. He lived with his family in the same, close-knit Greenspoint neighborhood from birth until graduation from Polytechnic Institute of Brooklyn (now NYU Tandon School of Engineering), in 1953 with a B.S. in Mechanical Engineering. To help support his cherished parents and fund his education, he began working at an early age, including a job handling luggage at New York's Grand Central Station.
Before attending Polytechnic Institute, he studied at New York Maritime College and participated in training cruises with the Merchant Marines. During this time, he met the love of his life, Margaret (Marge), who he met at a dance sponsored by the nursing school she attended. He married her in June 1953 in New York City and remained a devoted husband to her, never wavering in his care and affection even as she suffered from advanced Alzheimer's disease. Just four weeks before his death and in declining health, he traveled to her nursing home facility to spend their sixty-ninth wedding anniversary together.
Walt began his engineering career in 1953. He developed testing qualifications for aircraft engines at Curtis Wright Corporation and supervised the design and testing of rocket engines at Thiokol Chemical Corporation before beginning his dream job at the National Aeronautics and Space Administration (NASA) in 1963.
He started as a Resident Engineer assigned to NASA's Apollo program and quickly became the Chief Engineer of the Lunar Excursion Module (LM) project at the Resident Apollo Spacecraft Program Office (RASPO) in Bethpage, New York. In this capacity, he was responsible for ensuring that Grumman met all of NASA's requirements in developing the LM – the vehicle that landed on the moon. Despite long hours demanded by the Apollo program, Walt obtained his M.S.E. from Long Island University in 1967. In 1969 he became manager of RASPO in the final years of the Apollo program. With RASPO's ending, he transferred to Texas in 1973 and assumed the position of Systems Integration Manager in the Space Shuttle Program Office at Johnson Space Center. He later worked in the Mission Operation Directorate to upgrade the Shuttle Mission Control Center before retiring from NASA in 1999. After 36 years at NASA, he continued to work as a consulting engineer until 2006.
In 2006 when he reflected on the time he dedicated to the Apollo project, he said: "It was the highlight of my life…It was something we needed to do. It was a commitment to the whole Country". His commitment to his work never detracted from his devotion to his family.
While NASA bestowed many superior achievement awards on him, his main goal in life was always to ensure his family had everything they needed. This is where he truly excelled. His generosity of spirit towards family as well as friends was boundless, regardless of whether he was sharing his resources, his time, or his wisdom. He embraced life and included all his children in his favorite sport – skiing, an activity he participated in until age 78. One of his favorite t-shirts said, "You don't stop skiing because you are old, you get old because you stop skiing".
He did stop skiing sooner than planned in order to attend Alzheimer's support groups with his wife and attend to her care. Ocean cruises provided the avenue to continue to enjoy life with her without risking a broken bone on the slopes. He lived independently and fully until his kidneys started to fail him the last few months of his life.
Walt is survived by his wife Margaret, daughters Carol Oeller and Alice Kilgo (Steve O'Brien), sons Stephen (Camille), Douglas (Laura), and Walter Jr., grandson Dylan, and step-grandchildren Jason and Madison. He is preceded in death by his parents and brother George. Our hearts will remain forever full of love and gratitude for the life he provided us.
A memorial service will be planned for a date when we know all family members can be present.