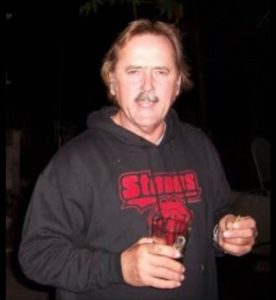 On the evening of March 18th, 2023, Heaven welcomed home one of the hardest working men who ever lived. Walter Lewis Lopez Sr is now resting in paradise. He left this world cradled in the armsof the love of his life, his wife Linda. He was preceded in death by his mother, Nelda Brown; Father, Raymond Lopez Sr. ; step-father, Marvin Brown; grandfather, Walter Lewis Knowlton, grandmother, Alice Knowlton; cousin, Michael Marsh, brother-in-law, Larry Derouen Jr.; grandmother-in-law, Dores Parente Goncalves; and a multitude of beloved pets that he cared for over his 69 years on this earth. (Shadow, Wookie, Nala, Brittany, Kiesha, Jax, Socks, Boots, Jake, Sam, Peppy, Swayze, Jazz, Digger, Dunn, Honey, Lily, King Tutt, Dizzy, and so many others are finally by his side again.)
Born November 9th, 1953, to Raymond Lopez Sr. and Nelda Knowlton Lopez in Galveston, Texas. A beloved husband, father, grandfather, brother, son, uncle, and friend. He graduated from Ball High School in 1972. An avid moto-cross racer for many years, a skilled water skier, and motorcycle enthusiast; he met life at full speed. He was an expert marksman and overzealous gun collector, who taught his grandson how to hit any target. He was the driving force behind Mutt Mesh Animal Rescue, always making it possible for us to take "just one more". He drove rescue dogs out of state to become service dogs for disabled veterans, rescued turtles from traffic, and cuddled mangy pups in his spare time. Never failing to spend quality time with his family, no matter how many hours he had worked that week. Weekends were spent at the lake house fishing, skiing, riding 4 wheelers, and having fun. You had to listen carefully if you wanted to catch his hilariously sharp wit, you would catch even more if you brought him a glass of Wild Turkey. An extremely skilled craftsman at many trades, he made his living as a welder, and spent his free time building fabulous custom creations for his family. (And fixing all of the things his wife managed to break.) He was a devoted husband for 42 years, a father to two extremely lucky (now grown) kids, and the best Papa a boy could ever hope to have. An American patriot who valued our constitutional rights, (especially the second amendment) a die-hard Republican, and a union man. He will be greatly missed by everyone who was lucky enough to know him; especially his family, his dogs Mater and Bella, and his calf Angel.
He is survived by his wife, Linda; Daughter, Deanna; son, Walter Jr.; Grandson (and best buddy) Joe; Brothers: Raymond Lopez Jr (and wife, Judy), John Lopez (and wife, Nanette); Robert Kegresse (and wife, Tammy); Sisters: Carlene Wallace (and husband, Glen), Susan Lopez, Neva Young, and Luanne Lopez Parker. His aunts, Mary Fullen and Neva Marsh (and husband, Dwayne). Father-in-law, Larry Derouen Sr. and Mother-in-law, Margaret Derouen. Brother-In-law, Michael Derouen Sr. (and wife, Tabbetha), and sisters-in-law: Guida Derouen (and fiance, Arnold), Cindy Derouen, Monique Derouen, and Michelle Derouen. His nieces: Renee, Nikki, T-Jae, Amy, Kristina, Hannah, Alicia, Tiera, and Mina. His nephews: Raymond III, Danny, Garrett, Tyler, Harley, Izzy, Chuck, Derrik, Shane, Bradley, and Michael Jr. And a multitude of beloved cousins, in-laws, pets, and dear friends.
Psalms 23:1-6
The LORD is my shepherd; I shall not want. He makes me to lie down in green pastures; He leads me beside the still waters. He restores my soul; He leads me in the paths of righteousness For His name's sake. Yea, though I walk through the valley of the shadow of death, I will fear no evil; For You are with me; Your rod and Your staff, they comfort me. You prepare a table before me in the presence of my enemies; You anoint my head with oil; My cup runs over. Surely goodness and mercy shall follow me All the days of my life; And I will dwell in the house of the LORD Forever.
In lieu of flowers memorial donations may be made to:
Mutt Mesh Animal Rescue
Paypal: muttmeshinfo@gmail.com
Venmo: @MuttMeshAnimalRescue
(He didn't care much for flowers, but he loved his dogs.)
A memorial service will be held at Crowder Funeral Home 111 W. Medical Center Blvd, Webster, TX 77598 at 4:00 p.m. on Saturday March 25, 2023, with a reception to follow.