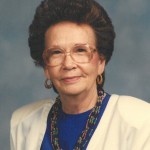 W. Kathleen Triplett was born on February 16, 1921 and passed away on February 7, 2014. Kathleen was born in the Fort Graham community near Hillsboro., TX.
Kathleen was preceded in death by the love of her life, her husband, Travis; by her parents, Marshall Lee and Alzena New, her brother M.L. New, and her sister, Virginia Clements. She was a loving wife, mother, sister and Gmom. She leaves behind her children, Warner and wife, Francis; daughter, Sandra and husband, Mack Hayes; son, Alton; her only grandchild, Stephanie Hayes and her sister in law, Dolores New. She also leaves nieces and nephews and many friends.
Kathleen had many fond memories of growing up along the Brazos River and spending time with her grandmother, Cora Lee New, skipping stones, fishing and wading barefoot.
She worked for many years in the retail community in Texas City including Tot To Teen, Chambers and Jane's Etc.
Kathleen's hobby was traveling….and the places she loved, Gatlinburg, San Simeon, Branson, Nashville, Carmel, and St. Simons and Jekyll Island and many others…and any casino.
We would like to thank the staff at Bayou Pines Care Center for the care that they gave Mother during the two years that she resided there.
Visitation will be on Tuesday, February 11, from 5 – 7 P.M. at Crowder Funeral Home in La Marque, TX and graveside services will be held Wednesday, February 12, at 2:00 P.M. at Hillcrest Garden of Memory in Hillsboro, TX .
In lieu of flowers, please make donations to The American Cancer Society or the charity of your choice.