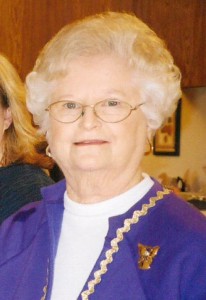 Vivian Lauriece Carter, 80, Of Texas City passed away on Tuesday, March 3, 2015.
She was born March 17, 1934 in Overton, Texas to George H. and Maggie M. Thompson. Lauriece graduated from Texas City High School and resided in Texas City for the remainder of her years. She was a lifelong member of the Baptist Church, was active in the Baptist WMU, worked with Cub Scouts and Brownies, and enjoyed cooking and quilting.
She is preceded in death by her parents and her husband of 59 years, Nolan Carter.
She is survived by two sons, Larry Carter and wife Regina, Garry Carter and wife Patty, and one daughter, Melinda Spiers and husband George. She has six grandchildren, Daniel Carter, Ross Carter, Lauren Lawrence, Lindsey Woods, Lisa Spiers, and Dustin Spiers. She is also survived by four great-grandchildren, Chase Spiers, Walker Woods, Georgia Woods, and Tori Bell Lawrence. Georgia Foley, her sister of Angleton, Texas also survives her as well as many nieces and nephews.
Her family would like to express their gratitude to those who took special care of her and became her friends at Sandcastle Dialysis Clinic and Bayou Pines Care Center.
Memorials may be sent to the National Kidney Foundation.
A memorial service will be held on Saturday, March 7, 2015 at 1:30 pm at the
Crowder Funeral Home in La Marque, Texas.