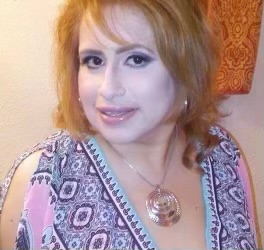 Virginia Trevino, born June 30, 1969, in Plymouth, IN to Roberto and Juanita Trevino who preceded her in death. Virginia passed to be with her Lord and Savior on September 27,2022.
She was a member of Nuevos Frutos Church in Houston, Texas where she attended and served faithfully always with an open heart. Virginia worked as a Real Estate Agent for Former-Boeck Real Estate Agency and also worked for many years at Gulf Coast Blood Center.
She is preceded in death by her sister, Vilma Aleman
Virginia leaves behind her husband Roberto Reyes; daughter, Trinity Perez; sisters: Viola Esquivel, Velia Trevino; brother, Robert Trevino Jr. & wife Lily Trevino; nephews; Jimmy Esquivel & wife Maribel Cooper, Robert Aleman & wife Kristina Aleman, Michelle Ryerson & husband Lucas Ryerson, Monica Melanson & husband Michael Melanson, Veronica Patino, & Karina Trevino; great nieces and nephews Jack Aleman, Aria Aleman, Hazel Ryerson, Allyna J. Melanson, Zaylee Melanson, & Audriel Cooper.
Virginia near or far you will always be in my heart, I miss every morning your coffee requests, I am thankful I had the blessing to take care of you always. -Robert Reyes
Virginia will be forever missed and remember in our hearts, she did so much for so many where would we start and never finish. She was always giving and whoever knew her well, knows she would go out of her way to help. She loved working with children this pass months she was the one who was always asking what can I bring for the kids at church?  If she knew you personally or not and knew you were in need, she would do what she could to help. She would be happy just sitting having a cup of coffee and pan dulce. Virginia would love to take rides to Galveston just to sit and watch the waves and feel the breeze. She was glamorous oh yes, she was when she had to be and just down to earth blue jean girl. She could speak to you for hours if you needed a shoulder and invite you over just to hang out. Mother, wife, sister, aunt friend will be missed your memory will live on forever. I can hear your laugh still at times and remember your smile. We are at peace knowing you are now resting in our Creators arms Jesus Christ.
Visitation Service will be held from 6 p.m. to 7 p.m. Friday, October 14, 2022, with a service to begin at 7 p.m. in the chapel of Crowder Funeral Home, 2422 E. Broadway St. Pearland, TX 77581. Graveside will be Saturday, October 15, 2022, at 1 p.m. at South Park Funeral Cemetery in 1310 North Main St. Pearland, TX.77581.
Pallbearers will be, Robert Aleman, Michael Melanson, Jimmy Esquivel, Robert Trevino Jr., Lucas Ryerson, Nelson Conedera.