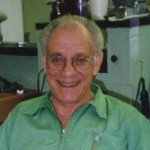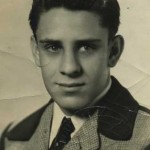 Vincent Baptist Trippodo beloved husband, father, grandfather and great-grandfather passed away on Saturday, July 5, 2014 at his residence.
Vincent was born in Dickinson, Texas on October 24, 1930. He was a devoted Catholic and a member of the Shrine of the True Cross Catholic Church where he was also a member of the Knights of Columbus for 50 years.
In the early 1950's Vincent served in the U.S. Air Force during which time he met and married his wife of 63 years, Artie Marie Culverhouse Trippodo.
Vincent being a lifelong resident of Dickinson began his career as a Barber at Pete's Barber Shop in 1947 at the age of 16. After 60 ½ years as a barber, "Vince" as he was lovingly known; had probably cut half the men in Dickinson's hair. If he was not cutting hair, he was fishing with his son Keith or his big brother Johnny Trippodo.
He was preceded in death by his parents Jasper and Palma Trippodo, four sisters, one brother, three brothers-in-law and one nephew. He is survived by his wife Artie Trippodo of Dickinson, daughter Linda Rogers and husband Michael, son Keith Trippodo and wife JoAnn, grandchildren Ashley Pate and husband David, Justin Rogers and wife Allison and Jarrett Trippodo, great-grandchildren Karleigh and Camryn Pate and Gavin and Keegan Rogers, along with numerous nieces and nephews.
Serving as pallbearers are nephews Vincent Liggio, John Thomas Chambers, Michael Chambers, Phillip Chambers, John Douglas Boatright and Ronnie Boatright, and honorary pallbearer Raymond Boatright.
Visitation will be Tuesday July 8, 2014 from 5 p.m.-7 p.m. with a Rosary beginning at 7 p.m. at Crowder Funeral Home in Dickinson, Texas. Funeral Services will be held Wednesday July 9, 2014 at 10 a.m. at Crowder Funeral Home in Dickinson, Texas.