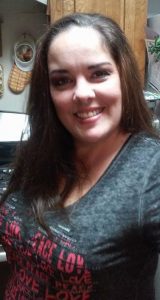 Verna Dawn Allen "Kelly", 35, was born June 1, 1982 in Houston, TX and passed away November 1, 2017 in Deer Park, TX. Kelly was a sixteen-year resident of the Deer Park area and was a member Second Baptist Church in La Porte, TX.
During Kelly's time here on earth, she touched a lot of lives.  She always had a smile and a big heart.  Everyone enjoyed her witty personality and her love of life. Kelly loved sports, as she played softball and volleyball all through her younger years. She loved being a part of a team. Selfishness, and gossip were two things that really made her angry.
The love she had for her children was the highlight of her life and she made sure she told them so frequently.  She told everyone she met how proud she was of her children and how much she loved them. The nieces and nephews were loved like her own.  They always loved to see Aunt Kelly as she was a child at heart and was always fun and welcoming.
There were some pretty dark days for her after the death of her father in 2008, as she never got to say goodbye. She clung to her family more than ever to see her through them. If you ever needed someone to talk to, she was there to listen. Kelly wanted to help everyone and did so even in death as she was an organ donor and gave the gift of life. She had a beautiful soul.
Kelly is preceded in death by her father, Harold Allen Sr.; grandfather, W.G. Allen; grandparents: Dwayne and Caroline Coughenour.
Kelly is survived by her daughters: Brianna Allen and Malerie Aguilar; son, Peyton Ray Sternadel; parents, Dennis and Mary Gray; grandmother's: Vernon Allen and Joyce Gray; sisters: Bernadette Dray and Wayne Stone, Heather Tramell and husband T.J., Savanah Allen, Amy Gutierrez and husband Noe; brothers: Bob Brown Jr., Brandon Brown and wife Gracie, Harold Allen Jr., Prathen Allen and wife Amy, Charles Lilly and Dennis Gray Jr.; numerous nieces, nephews, aunts and uncles.
Family will be accepting guest Monday, November 6, 2017 at 11:00 a.m with a service to follow at1:00 p.m in the chapel of Crowder Funeral Home in Pearland. Burial to follow at Forest Park East in Webster, TX.
Pallbearers will be: Bob Brown Jr. Brandon Brown, Harold Allen Jr., Prathen Allen, Savanah Allen and Wayne Stone.