Vera Bentley McVey Bozeman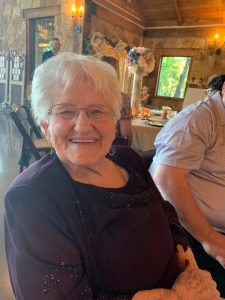 Vera Bentley McVey Bozeman, age 96, passed away on Wednesday, September 28, 2022. Vera was born July 23, 1926 in Rolla, Morton County, Kansas to Charles and Violet (Clinesmith) Bentley. She was born during the dust bowl days when the black rolling dust storms rolled into Western Kansas.
At a young age, she moved with her widowed mother to Eastern Kansas to care for grandparents. She graduated from Coyville High School in Coyville, Kansas, attended college and taught school on a teaching certificate.
Vera married her high school sweetheart, Bob McVey. Bob farmed and Vera taught school until Bob took a job with Standard Oil Company of Indiana in Neodesha, Kansas. They raised their family in Neodesha and were active in the First United Methodist Church. After her youngest child started to school, Vera began working for Woods Lumber Company as a secretary/bookkeeper.
In November, 1969, after American Oil (later AMOCO) closed the Neodesha refinery, the McVeys were transferred to Texas City, Texas. Vera began working as a bookkeeper at the Marina at the end of the Texas City Dike. Later, she took a position as bookkeeper for Bayou Vista Development Company where she worked for many years. Then she began working for James Crowder Funeral Home in La Marque where she worked until her retirement. In that position, she felt like she could be of service to people and she loved her job. At Crowder's, she was treated like family and always considered all the Crowders as family.
After Bob's death in 1976, Vera was widowed for ten years. In 1986, she married Ben L. Bozeman who was not only a wonderful husband for Vera, but treated her children as his own and filled a void where her grandchildren would have had no Pawpaw.
Vera was an active member of St. John's United Methodist Church, a member of the Order of Eastern Star and very devoted to her family and friends.
Vera was preceded in death by two loving husbands, Bob McVey (30 years) and Ben Bozeman (28 years), her parents, two brothers, Clarence and Tom Bentley, two sisters Alpha Bentley Marr and Opal Bentley Smith, nephew Max Marr, two nieces, Sharon Smith Cornett and Lynette Bentley Kitch.
Vera is survived by three daughters: Vicky McVey Mills (Ken), Becky McVey Davidson, Kathy McVey McKee (Ryan) and one son, Kent McVey (Kathryn); step daughters Velmanel Bozeman Petty and special friend Robert Hutchins and Linda Bozeman Blair (Charles), ten grandchildren Melissa Davidson Siroky (Stuart), Bobby Mills (Kacey), Cassie Davidson Edevold (Jason), Ryan Mills, James Boer (Jennifer), Travis McKee (Brittney), Joseph Boer, Michael McVey (Andrea), Jeffrey Boer and Matthew McVey (Jenna); 14 great grandchildren Kameron Mills, Trisha, Olivia, Scarlett and Isabella Siroky, Ethan and Brooke Edevold, Kayson and Haileigh Boer, Melia and X'Avier McKee,  Shiloh McVey and Kaclynn and Kacson Hawkins; two step grandchildren, four step great grandchildren and three step great – great grandchildren. She is survived by numerous nieces, nephews, cousins, and many other relatives and friends
A visitation will be held at St. John's UMC in Texas City from 12:00noon to 1:00pm on Monday, October 3, 2022. A funeral service will begin at 1:00pm at St. John's UMC in Texas City on Monday, October 3, 2022 with Pastor Stephanie Hughes officiating. A graveside service will be held on Wednesday, October 5, 2022 at 10:00am, at the Carlisle Cemetery in Toronto, Kansas.
Vera's family would like to express sincere appreciation and thanks to the wonderful caregivers at Evening Star Personal Car Home and more recently the caregivers at Anchor Hospice.
In lieu of flowers, donations can be made to St. John's United Methodist Church in Texas City.