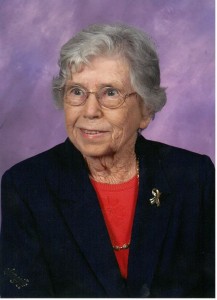 Velma Pearl Gogle, 94, of Texas City passed away on February 12, 2016 in Pearland, Texas. She was born May 14, 1921 in Gurdon, Arkansas to James Floyd and Ester Key Brown. Pearl was a cook at La Marque High School.
She is preceded in death by her parents;  her husband Thurman Henry Gogle and son Daniel Thurman Gogle. Pearl is survived by her daughters Ruth Wiley and Theresa and John Lotterhos; son and daughter-in-law; Herman Cedric Gogle and Bobbie Sue; six grandchildren; Daniel Ron Gogle, Michael Don Gogle, Brian Gogle, Stacy Gogle Brown, Tim Bozarth and Terri Jones; ten great grandchildren Kristina, Ai, Callan, Malina, Kaden, Evelyn, Amber, Emily, Nick and Savannah.
A visitation will be on Saturday, February 20, 2016 at 11:30am to 1:00pm with a Service at 1:00pm at the James Crowder Funeral Home in La Marque.