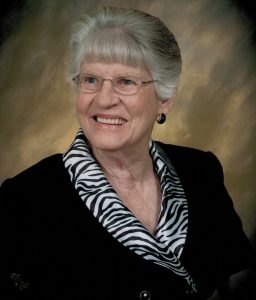 Velma M. Blake, of League City, Texas passed away Tuesday, October 11, 2016 at the age of 85. She was born August 30, 1931 in Huntsville, Texas to Jarret and Sophie Scheffer. Velma was a devoted and loving, hardworking single mother.  She worked many years in bookkeeping and accounting.  She was very creative and loved sewing and made many beautiful quilts.  After she retired she and her husband Bill moved to the panhandle of Texas to live in Shamrock.  She enjoyed the country small town life there.  In retirement she and Bill opened a small cafe called the U-Drop-Inn on historic Route 66.  They injoyed the attention that the building drew and she was an excellent cook and served the best home cooked meals in town.   She always had beautiful flower gardens and a large fruit and vegetable crop every year.  She lived there with her husband Billie Frank Blake, until his death in December of 2000.  It was at this time that she came to Live in League  City to be near her family.
She is preceded in death by her sisters Charlene Chancellor, Eunice Owen,  Faye Keeling, Oleta Scheffer, brothers Buck Scheffer and Kenneth Scheffer.   Velma is survived by her daughter Kelli Mitrowski and husband Matthew, and two grandchildren Lianne Renee and Coady Blake Mitrowski,.   She also leaves behind many loving nieces and nephews.
A Memorial Service will be held on Friday, October 21, 2016 at 1:00pm at Crowder Funeral Home, 1645 East Main Street, League City, Texas.