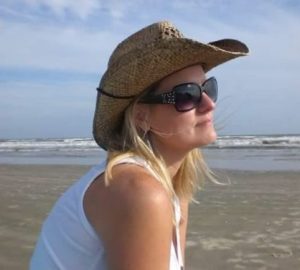 Valerie Dianne Rovira-Rooney, passed away too soon on October 8, 2016 in Clear Lake. She was born on January 29, 1966 in Houma, Louisiana to William Valery and Lucy Fletcher Rovira. We know that she was greeted with open arms by our father William Valery Rovira, grandparents, family members, and friends. Valerie is survived by: daughter, Olivia Rovira-Rooney; Olivia's father, Mark Rooney; mother, Lucy Fletcher Rovira; sister, Celia Rovira Boyle; brother-in-law Ed Boyle and niece and nephew Maggie and Will Boyle; sister, Anne Rovira Cox; nephew and niece, Carson and Katryna Cox; and many family members and friends.
In high school she traveled the world and had many adventures and loved spending time with her girlfriends. Just like her father, Valerie was a friend to all and never met a stranger.  She earned a culinary degree from Houston Community College and enjoyed her experiences at Benjy's, Moose Café, and Houston Country Club.  She loved her daughter, and she had a passion for cooking for others.  She enjoyed teaching Olivia how to cook.  Valerie was always adding a little of her Cajun heritage to everything she loved.  Valerie treasured spending time at the family lake house in Livingston with family, friends…and all the dogs.
A memorial will be held on 15th day, October 2016 at 3pm at Clear Lake Recreation Center, 16511 Diana Lane, Houston, TX  77062 (Room C/D, enter and park from Reseda).  In lieu of flowers those wishing to make a memorial donation in Valerie Rovira-Rooney's memory may do so by donating to Olivia Rovira-Rooney's college fund at www.youcaring.com/Olivia-Rovira-Rooney-667295.