Valerian Albert Bilski, Sr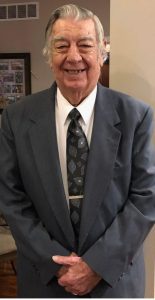 Valerian Albert Bilski, Sr., age 91, loving husband and father of 3 children, went to be with the Lord on Thursday, January 5, 2023.
Val was born on February 1, 1931 to Pete and Theresa (Gutowski) Bilski in Chappell Hill, Texas. In his youth, he greatly enjoyed being a daily altar server for Bishop Burns at the Bishop's Palace in Galveston. Val graduated from St. Thomas High School in Houston in 1949 and then served in the United States Air Force during the Korean War from 1951 to 1955.
After honorably serving our country, he began a long and successful career in banking serving as Vice President at several banks over many decades.
On July 24, 1954, Val married his sweetheart, Lois Wright, at Holy Rosary Catholic Church in Houston, Texas. Val and Lois had three children: Beth, Valerian II and Frank.
Val retired in 1993 when he and Lois moved to the family farm in Groveton, Texas. For many years he greatly enjoyed the wildlife, fishing, hunting, gardening, watching the red birds, driving one of his tractors, and front porch sitting.
Val did everything with honesty and integrity, had incredible patience and always made time to help others. He had very strong Catholic values, an unsurpassed work ethic, and was supremely dedicated to his entire family.
Val was predeceased by his loving wife of 64 years, Lois Bilski; his parents, Peter and Theresa Bilski; and his brother, Mackie Bilski. He is survived by his sisters, Rose Marie Hutton and Dorothy Ross; his children, Beth Landry (Mike) of League City, Val Bilski II (Tammy) of Houston and Frank (Laura) of Bastrop; 7 grandchildren: Kevin Mahaffey II (Amanda) of Brunswick, ME, Dr. Kristi Nord (Jon) of Jasper, IN, Brittany Hackney (Ben) of Dickinson, Valerian Bilski III of Houston, Mitzi Moore (Dustin) of Round Rock, Adam Merino (Brandi) of Lexington, and Isaac Merino (Kasandra) of Bastrop; 9 great-grandchildren: Sean, Zach, Alex, Abigail, Everlee, Bryson, Jaden, Sadie and Cayla.
Visitation will be held Monday, January 9, 2023 from 6 to 8 pm with Rosary at 7 pm at Crowder Funeral Home, 111 E. Medical Center Blvd in Webster, TX.  A funeral mass will be at 10:30 am Tuesday, January 10, 2023 at St. Bernadette Catholic Church, 15500 El Camino Real in Houston, with visitation beginning at 9:30 am and a military honors burial service at 2 pm at the Houston National Cemetery. In lieu of flowers, the family requests donations be made to The Bob Woodruff Family Foundation, Fisher House Foundation or the Gary Sinise Foundation.