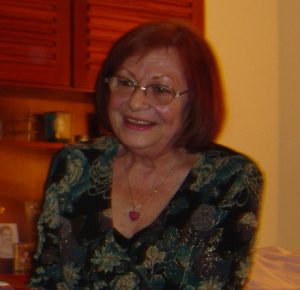 Ulrike (Ulla) Schulze Robinson, 80, passed away on Sunday, August 9, 2020 at her home in Houston, Texas. She was born on July 24th, 1940 in Göppingen, Baden-Württemburg, Germany to Erich and Else Siebert.
Ulla was preceded in death by both of her parents, her brother Erich Siebert, as well as her first husband, Detlef Schulze, and second husband, Willard (Robby) Robinson. She is survived by her family: son Gunther Schulze and wife Sherri with children Karsten and Eva of League City, TX, son Peter Schulze of Houston, TX, and sister Rosemarie Biniek of Wangen, Baden-Württemburg, Germany.
Ulla was born and raised in Göppingen, Baden-Württemburg, Germany in 1940, the second of three children. She was trained at some of the best hair salons in the area during the 1950s. In 1965, she came to Houston, TX to work at hair salon on the west side of Houston called International Coiffures. The proprietor was bringing hair stylists from Europe to Houston to accommodate his high-end clientele. There she met her first husband, Detlef Schulze, who had similarly come to the salon in 1963 from Zurich, Switzerland via München, Germany and his hometown Nordhorn, Niedersachsen, Germany. They met and fell in love immediately. They were married on October 17th, 1967. In 1972 they moved from the Walnut Bend neighborhood in Houston, to the newly built Camino South area in Clear Lake City, later moving to the Brook Forest subdivision in 1977. There Detlef and Ulla built what would become a beauty salon that would last for forty years – Detlef Coiffures on Sea Lark. The highly successful salon catered to many families in the area and both Detlef and Ulla were loved by many not only as hair dressers, but as employers and friends to their clients. The salon transcended Detlef's death in 1990 and closed in 2013. Ulla was again married in 1991 to Willard (Robby) Robinson, a retired engineer who had worked at NASA and numerous NASA contractors. This marriage would last ten years until Willard's passing. Ulla loved visiting with friends and going out to dinner at the many German-themed restaurants in the area during the 1990s and 2000s. She also loved to cook for her family and holidays were always looked forward to at Oma's house.
The family wishes to express their thanks for well wishes, prayers and friendship during this time.