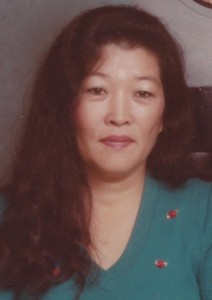 On the evening of June 18, 2015, our beloved Tu Pedersen passed away peacefully at her home in League City. Born Tu Ok Chang on January 8th, 1940, in South Korea, Tu moved to the United States married to the love of her life, Dennis Pedersen. Dennis and Tu had a beautiful 49 year life together.
Her son, Dean Matthew Pedersen, precedes Tu in death. Aside from her husband, Tu is survived by her son David Derek Pedersen, his wife Tanya; and daughter in law Amy Farmer. Nothing gave "Mama Tu" more joy than spending time with her grandchildren Kamryn, Makenna, Jacob, Juliana, Nickolas, and Evan. Tu also leaves behind nieces, nephews, and other family and friends that all meant the world to her.
The Pedersen family would like to thank Altus Hospice for their help and kindness, specifically Brandy Vandergrifft, Pastor Thomas Lester, LaTonya Banks, Helen Arzu, and a very special heartfelt thank you to her caregiver Ms. Dorthy Fields and friend Sindy Delcid.