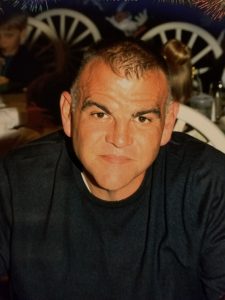 Troy Alan Tasler, 46, a La Marque resident of 41 years, passed away April 19, 2021.  Troy was born November 21, 1974 to Edgar James and Margaret Mary Goeke Tasler in Port Lavaca, Texas. He graduated from La Marque High School in 1993. He was a member of Shrine of the True Cross Church in Dickinson. He was employed as an Assistant Manager at Discount Tire for over 25 years.
Troy was preceded in death by his grandparents, Paul J. and Margaret K. Goeke and Edgar J. and Bernice K. Tasler, and his uncle, Johnnie Bennett, and cousins, Austin and Colby Tasler.
He leaves behind to cherish his memory, his loving parents E. J. Tasler, Jr. and wife Peggy; brother, Matthew Adam Tasler; son, Ean James Tasler; daughter Alex Tasler and fiancé, Mason McDaniel; uncles, Paul Tasler and wife Mary Ruth; Robert Tasler and wife Robin, Michael Tasler and wife Laurie; Paul J. Goeke, Jr. and wife Karen; aunt, Cindy Bennett, and numerous cousins.
Troy was faithful.  He was devoted to his family and always ready to help a friend.  He was a true loving father, tough but kind. He was the type of man who would drop everything to help friend.  He was the type of father who would drive 270 miles to help his daughter fix her car and move into a new house, all while undergoing radiation and chemotherapy. He was a man of faith.
Troy was strong.  Troy had a "do it yourself" attitude, but always took the time to teach his children how to do it themselves.  While most kids give the controller to their dad when they can't level up on their video game, Troy would playfully make fun of them while they struggled so they could have the thrill of accomplishing it on their own.  He was self-reliant, and he wanted them to be self-reliant.   Alex describes her dad as a "safe place" to go for his children. Cancer treatment did not stop him from remodeling his house, working on his truck, or rebuilding his fence. His doctors marveled at his strength while undergoing catastrophic events.
Troy was happy and fun to be around. He had a good heart. An outdoorsman, he enjoyed hunting, fishing, and camping. He loved his yearly trips to the Frio River and Garner State Park. He loved gardening and watching things grow. He delighted in Christmas shopping and finding the perfect present for everyone. He was a lover of fine cuisine and enjoyed cooking traditional Czech dishes as well as his specialty seafood gumbo and crawfish boils. He shared his skills with Ean and Alex and his joy of cooking.  He enjoyed life.
Troy was hard working. He worked sacrificially to give his family a good life. During his career at Discount Tire, he developed loyal customers, who would travel store to store to buy from him. He was very loyal to Discount Tire and especially Mr. Halle. The Bruce Halle Employee Assistance fund would pay his medical expenses.  Troy was grateful for all his blessings.
In his honor a visitation will be held 5:00 – 8:00 pm, with a vigil/rosary at 7:00 pm, Friday, April 23, 2021, at Crowder Funeral Home Chapel, Dickinson.  A Funeral Mass will be held 10:00 am, Saturday, April 24, 2021, at Shrine of the True Cross Catholic Church, Dickinson, with Father Larry Wilson officiating. Interment will follow the mass at Mt. Olivet Catholic Cemetery, Dickinson. After the interment a lunch will held at the K.C. Hall, 4132 27th St E, Dickinson, TX
In lieu of flowers, donations may be made to the Bruce T. Halle Assistance Fund  https://bthaf.org/ .