Thomas "Smokey" Edeline Jr.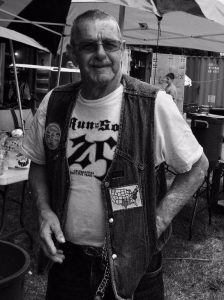 Thomas "Smokey" Edeline Jr. a thirty-five-year resident of League city, TX passed away December 2, 2017. Smokey was born in Philadelphia, PA and raised there most of his life. Smokey is up in heaven riding his Harley Davidson and breathing easy.
He is preceded in death by his wife, Joan; parents, Thomas and Esther Edeline Sr.
Smokey leaves behind his daughter, Terri Johnson, husband Mark; son, Thomas E. Edeline; grandchildren: Jena Edeline, Essie Johnson and Jasmine Johnson; great grandchildren: Dexter Edeline, Audrina Johnson, Braylee Ormsbee and Jeremiah Johnson; niece, Traci Cooper, husband Curtis; nephew, Jimmie Hutton, wife Tina; along with other nieces and nephews.
A memorial service will be held Saturday, December 9, 2017 at 10am in the chapel of Crowder Funeral Home in Pearland.
In lieu of flowers, please make memorial contributions to: COPD Foundation, 3300 Ponce De Leon Blvd, Miami, FL 33134, www.copdfoundation.org