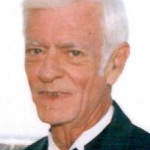 Thomas O'Brien Tuffly, 77, passed away on July 6, 2014.  He was born in Houston, TX on October 10, 1936 to Joseph and Lillian Tuffly. Thomas was the former Mayor from 2006-2008 and City Councilman from 2008-2013 of Arcola, where he lived for a length of time. He loved the outdoors, hunting, fishing, boating and on Sundays he enjoyed cooking. He had many Tuffly recipes that he would make for the family for us all to enjoy. Thomas graduated from St. Thomas High School and University of Houston. He was also a member of The Elks Lodge and the K/A Fraternity.
He is preceded in death by his wife, Frances Tuffly, parents; sisters: Betty Mae Fitzgerald and Chickie Tuffly Kelly; brothers: Joseph B. Tuffly Jr. and Bartholomew L. Tuffly.
Thomas is survived by his two children: Kimberly Tuffly Nelson and husband Page and Thomas O'Brien Tuffly Jr. and wife Kelly; grandchildren: Zachary Nelson, Kristen Nelson and step-grandson Herbert Timmy McKinzie. Several nieces and nephews.
A memorial visitation will be Tuesday from 5-8 pm with a vigil at 7pm at Crowder Funeral Home in Pearland.