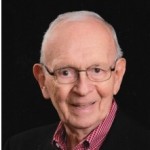 Tom Lotz passed away on September 29, 2014 at 78 years of age, with his wife and daughters by his side. Tom was born on December 5, 1935 in Geneva, NY, to parents Thomas Malcolm Lotz and Mildred Myers Lotz. He was raised in upstate New York and graduated from Sherburne Central School in 1953. Tom attended Syracuse University, where he was a Letterman in Varsity Crew and a member of Phi Gamma Delta fraternity.  After graduating from college in 1957, Tom joined the U.S. Army as a 2nd Lieutenant.
Tom Lotz was a family man. He first encountered his future wife, Susan Rickmyre, when he sat behind her in the sixth grade. It wasn't until years later in 1958, when he was home on military leave for Easter Sunday, that sparks flew as Tom watched Susan sing in the church choir.  Tom and Susan married in 1960, and together they raised two daughters, Gretchen Janet and Jennifer Helen. Tom was a devoted father and in his later years found great joy in supporting grandsons Andrew Thomas and Alexander Gray by attending their sporting and musical performances.
Tom was a career military man, obtaining the rank of Lieutenant Colonel in the U.S. Army. He was awarded the Bronze Star, Army Commendation Medal, Joint Service Commendation Medal and Vietnam Service Medal.  He had many assignments in the U.S. and abroad during his 24 years of service.
In 1977, Tom obtained a Master of Science from Kansas State University. His final military assignment was as Professor of Military Science at the University of Houston. After retiring from the Army in 1981, Tom returned to his passion for rowing. He was a Founding Member of the Bay Area Rowing Club of Houston, Southeast Region representative for the U.S. Rowing Referee Commission, and a licensed rowing official for over 20 years. In 2002, Tom was awarded the Syracuse University Varsity Club Letterwinner of Distinction Award.  In 2010, he received the Jack Franklin Service Award from USRowing.
Tom was a lifelong public servant. He was Primary Director for the Republican Party of Harris County and served as an aide to the late Houston Councilman Joe Roach. Tom was a Board Member and President of Clear Lake City Community Association, Board Member for the Texas Equal Access to Justice Foundation, and a Member of Clear Lake Regional Hospital Ethics Committee. He also served in the Harris County Clerk's office. Tom truly enjoyed his role of Sports Director for the Houston 2012 Foundation, working to prepare Houston's bid for the 2012 Olympic Games.
The world has lost one of its best – a man of character, integrity, and service to his family, the military, his church and his community.
Tom Lotz was preceded in death by his parents and his brother Dan Myers Lotz. He is survived by his wife Susan, daughter Gretchen Lotz of Houston TX, daughter Jennifer Lotz Durham and husband Scott Gray Durham of Richardson TX, and grandsons Andrew Thomas Durham and Alexander Gray Durham.
Services will be held at 1 p.m. on Saturday, October 4 at Clear Lake Presbyterian Church in Houston. In lieu of flowers, contributions can be made in Tom's name to the Clear Lake Presbyterian Church Memorial Fund, 1511 El Dorado Blvd., Houston, TX 77062.