Thomas Henry "Tom" "Coach" "Brow" Williams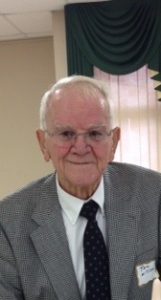 Thomas Henry "Tom" "Coach" "Brow" Williams, 85, passed away on January 24, 2017.  He was born on February 4, 1931 in Paris, Texas to Alfred Gantt Williams and Carrie Leona Williams.
Tom graduated from high school in Paris, Texas and enlisted in the Army in 1952.  He graduated from Paris Junior College and then received a Bachelors and Masters degree from Stephen F. Austin University in Nacogdoches, Tx.
Tom was preceded in death by his parents, his beloved wife Anne, his sister Adean Cooley and his niece Cheryle Ellis.
He is survived by his sister Johana Henderson, nephews Robbie, Randall, and Darrell Henderson and Todd Elias; niece Dawn Elias Loverde, sister-in-law Susan Elias and brother-in-law John Hackel.
Tom and Anne came to LaMarque to teach and coach in 1959.  Tom taught and was the varsity football coach at LaMarque High School for many years and retired from the school system after 30 years.
Tom was an avid sports fan and athlete.  He especially loved baseball, football and golf.  He lettered in several sports in high school and even played semi-pro for a short time after high school.  He was an excellent golfer and enjoyed playing many years at LaMarque Country Club before its closure.
He loved family, friends, people, and above all his wife of 61 years who passed away last year.  He loved "old classic" country music and watching the old western movies on tv.  He never met a stranger and always had a story to tell.  He had a special connection to young people and kept up with many of his former students and athletes over the years.  He never forgot a name once he'd met you.  His big smile, laugh, and zest for life will be greatly missed by all who knew and loved him.
A memorial service will be held at Saint Michaels Episcopal Church, 1601 Lake Rd., LaMarque, Texas on Saturday, February 4, 2017 at 1 p.m.  In lieu of flowers the family requests that you make a donation to the charity of your choice.