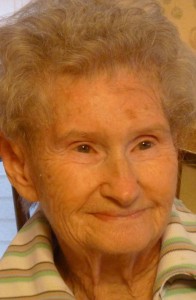 Thelma Means, 88, a longtime resident of Hitchcock, Texas passed away on February 11, 2016 in Texas City.
Born in Broaddus, Texas she received her nursing degree in 1952 from St. Mary's School of Nursing in Galveston, Texas. She retired after 30 years as a registered nurse from the United States Public Health Service Hospital in Webster, Texas.
She was preceded in death by her husband Wesley Means. She leaves behind a son Marvin Means and wife Beth Ann of Texas City; daughter Janice Braunsdorf and husband John of Hitchcock; sister Mary Alice Reynolds of Texas City and sister Charlene Gilder and husband Joe of Arcadia. Grandchildren are Janica Crippen and husband Jim of Tomball; Wesley Braunsdorf and wife Brandy of Hitchcock; Aaron Braunsdorf and wife Michelle of League City and Amie Mitchum and husband John of La Marque. She is also survived by 9 great- grandchildren and 5 great- great- grandchildren.
It was her family, friends and her beloved pets that brought so much joy and love to her throughout her life. She will always be remembered as a wonderful loving, caring and giving woman by all who knew and loved her. We are all so truly blessed to have had her in our lives.
A graveside funeral service will be held at Hebron Cemetery in Broaddus, Texas on Monday, February 15th at 1:00 PM. Funeral arrangements are being provided by Crowder Funeral Home in La Marque, Texas.