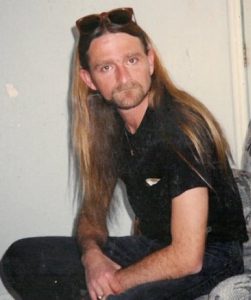 Terry Wayne Wallace, 57 of Nashua, NH passed away suddenly on November 25, 2016 while in New Mexico visiting for the holidays.
Terry was born on January 15, 1959 in Houston, TX to Pauline (Dooley) Wallace and Gerald "Jerry" Wallace. He was raised in La Marque, TX and was known to many around town as "Wild Man!" He was the kind of friend who always had your back and you could count on. Terry loved life, he was very popular and a known 'ladies' man' growing up. He used to say "I'm a lover, not a fighter!" Growing up he loved playing poker, magic card tricks and spent many nights playing chess. Terry was very artistic and loved to draw pictures, he would spend nights entertaining friends by playing the harmonica and loved to go dancing! As a young adult, he attended Mardi Gras every year in New Orleans and visited Austin often. He was a free spirit who loved music and went to many concerts. He loved the beach and on any given sunny day you would find him there wearing his OP's/Burwell's and drinking a cold beer with friends. He thought there was nothing better than being surrounded by friends, family, bar-b-q and a cold beer. He was very adventurous and later in life traveled to many places and collected bells, carousel horses and tapestries from his trips to California, Washington DC, Alaska, New York, Hampton's, Michigan and many more places. While in Alaska he worked as a scuba diver looking for special shell fish and enjoyed working on the water.
He eventually settled in Nashua, NH as a self-employed contractor and enjoyed his life with Beverly and helping raise her children Sarah and Rory. The kids were very special to Terry and it was important to him to be involved in every aspect of their lives. Though he loved his life in Nashua, as he got older he often reminisced about the exciting and fun years spent in Texas with friends and family and had decided he missed the sun and beach and was preparing to move home at the time of his passing.
He is preceded in death by his father, mother, brother Raymond Vavra, Jr. and sister Martha (Roche') Bryan.
He is survived by the love of his life, Beverly Masters and her children Sarah Skaggs and Rory Skaggs (Ruby); his siblings, Paul Roche', Amber (Wallace) Long, Dennis Wallace (Robin), Melinda Evans, Donny Ausmus and Steve Rice; his aunts, Sarah Guerrera (Chris) and Ann Wallace; nieces and nephews, Cheri Bryan, Amanda Cripe (Jake), Charlene Lozano (Richie), Jerry Wallace (Brittany), Victoria Evans, Marian Pike (Ricky), Jennifer Long and Blake Evans; great nieces and nephews, Haley Hazlett, Cory Thrash, Timothy Staley, Navali Second, Jordan Wallace, Gabriel Nallie, Christopher Wallace, Wyatt Douglas and Stevie Lozano.
Terry was generous, humble and a true gentle soul whom will be missed by family and friends.
A Celebration of Life will be held on Saturday, April 1, 2017 at 5:00 PM at First Christian Church, 1204 Ross St., La Marque, TX. with Pastor Rex Teter officiating. The family will host a reception at VFW hall in La Marque directly following the memorial.