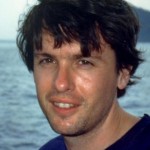 Ted Reece McKelvey, 52, passed away April 17 at his Houston home.
Memorial will be Saturday at 11am, Temple Bible Church, Temple, Texas.
Ted was born November 1, 1961 in Ft Worth to Mac and Jackie McKelvey. He graduated from Southwest HS in 1980 and majored in Marine Biology at Texas A&M Galveston.
Ted enjoyed mountain climbing, swimming, scuba diving, traveling and his family and friends. He loved the ocean and photography from an early age and enjoyed many exotic diving excursions as a Dive Leader and Instructor.
Ted will be remembered for his sharp mind, his love of people, being great with children and his sense of humor. He enjoyed the pleasure of, and was the source of pleasure for, many lifelong friends. He will be sorely missed by them and his adoring family.
Ted was greeted in Heaven by his father, Mac McKelvey and brother Richard McKelvey. He leaves behind his mother and step father Jackie and Roy Hughes of Temple, sister Carol Taylor and husband Steve of Aledo, sister Kathy McKelvey of League City, sister Monica Merritt and husband Bill of Weatherford, and step siblings Gary, Jann and Keith.