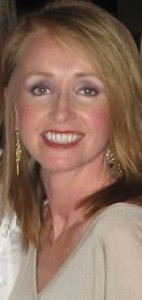 Tabitha Haigwood Kavalew passed away peacefully on Tuesday, August 18, 2015 at her home in League City, Texas, at the age of 46. She was born on August 2, 1969 in Winston Salem, North Carolina, to Michael and Linda Haigwood. She was married to the love of her life, Ken Kavalew, in 1996, and they were blessed with two beautiful children Brennan and Gianna (Gia). She graduated from Pine View High School in Longview, Texas, in 1987 and from Texas A&M University in 1993 with a degree in Aerospace Engineering.
Tabitha touched many lives around the world. She glowed with a kind, gentle inner spirit that drew people in. Her mother and father moved from North Carolina to Longview, Texas in 1983. She was in a tight-knit dance group at Kilgore College – the Kilgore Rangerettes – before attending Texas A&M. She was dearly loved by all of her Kilgore and Texas Aggie friends. Tabitha worked for NASA at the Johnson Space Center near Clear Lake, where she trained Space Shuttle astronauts how to operate the on-board computer system. When she married Ken, she moved from Texas to one of her favorite towns Seattle, Washington, where she gave birth to Brennan. They later moved to Mobile, Alabama, where they made more dear friends and Tabitha gave birth to Gia. Later in West Virginia, she continued with Ken to raise her amazing children surrounded by yet another supportive friend network. Those in the Clear Lake area were thrilled when she and her family moved back to Texas in 2009. She kept her children's activities in the forefront while she worked in pharmaceutical and retail industries. She was an avid tennis player and loved to get out on the courts. When she was diagnosed with breast cancer, she was an inspiration and strong friend to so many, both in the U.S. and in Germany.
She was preceded in death by her father, Michael Haigwood. She is survived by her husband Ken, daughter Gianna, son Brennan, mother Linda and step-father Terry, step-sister Ashley and step-brothers Brian and Patrick, as well as many other loving family and friends. The family will receive friends on Sunday, August 23, 2015 at 5:00pm to 8:00pm with a Vigil Service at 6 o'clock at Crowder Funeral Home, 1645 East Main, League City, Texas 77573. A Funeral Mass will follow on Monday at 10:00am at Saint Mary Catholic Church, 1612 East Walker, League City, Texas 77573. Interment will take place at Mount Olivet Catholic Cemetery in Dickinson, Texas.
The family would like to thank her close friends Dina Contella, Ven & Dorothea Feng, and Maria Tullar for all of their assistance and loving support with preparations for her funeral.
In lieu of flowers, contributions may be made to the Tabitha Kavalew Memorial Fund for her childrens' college fund via Paypal (enter the email address: forthechildrenofTabithaKavalew@gmail.com). Friends and family in Houston may also donate to the "Kavalew Donation Account" by going to any Chase Bank.