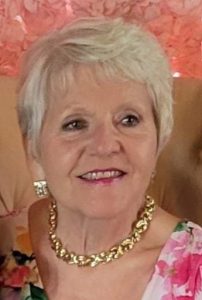 Sylvi Helene Johnsen, of League City, passed away on Saturday, November 11, 2023 at her home in Legaue City at the age of 77. She was born on March 5, 1946 in Tromsoe Norway to Carl and Hjørdis Andersen.
Sylvi grew up in Tromsø Norway. She met and married her beloved Roy in Tromsø Norway. She worked in the restaurant and hotel industry where she ended up at the SAS Radisson Hotel. She moved to Houston in 1982 for Roys job opening a chemical storage facility for Odfjell. After a few years at home she got her travel agents license. She worked at Heitmann travel for a while before buying her own travel agency in the Clear Lake area. She had a successful travel agency, Scandic World Travel for many years before relocating to Hirtshals Denmark for nine years. When her first grandchild, Ingrid, was born they moved back to Houston. Sylvi loved and cherished her grandchildren above everything. She was extremely happy to live so close to them and spent many hours at their elementary school. All the children knew "Mormor" and loved when she brought them "melke sjokolade". She traveled all over the world and especially liked traveling to Norway, cruised and Mexico with her family. We had a wonderful last vacation to Playa Del Carmen, Mexico in August if 2023. She was an accomplished home cook. She had lots of dinner parties at her house. Christmas was a favorite, her house was decorated beautifully and lots of Norwegian food was made. Sylvi loved animals and always had a dog or two. Bella and Bow were with her through her illness and gave her great comfort. She spent a lot of time volunteering and enjoying the Norwegian Seaman's Church in Houston. She had lots of ex par Norwegian friends and enjoyed their weekly "Viking Lunch" group.
She was preceded in death by her husband Roy "Captain Roy" Johnsen, sister Mette Andersen, Mother Hjørdis Andersen, Father Carl Andersen, sister in law Karin Andersen and beloved nephew Martin Andersen.
Sylvi is survived by her daughter Aleth Merethe Cates and husband Doug, brother Jan Hugo and wife Teri, brother Carl Morten and wife Sidsel, grandchildren Ingrid Cates and Magnus Cates, nieces, Catrine Trygstad and Anja Szast Andersen with families
A Ceremony will be held on Friday, November 17, 2023 at 12:00pm at Norwegian Seamans Church in Houston, 4309 Young Street, Pasadena, Texas 77504.
In lieu of flowers, you may send memorials to Norwegian Seamans Church in Houston, 4309 Young Street, Pasadena, Texas 77504.