Sybil "Winky" Pynn Winkler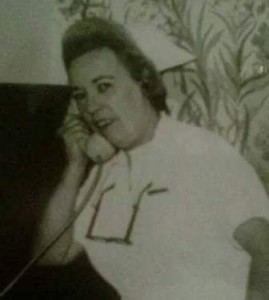 Sybil "Winky" Pynn Winkler, 92, resident of Friendswood, Texas passed away July 29, 2015 in Webster, Texas. She was born May 22, 1923 in Harbour Grace, Newfoundland to parents, Clinton H. Pynn and Hettie Elizabeth Pynn.
Winky worked in the medical field as an LVN Emeritus in the Galveston, Texas area. She had been a member of Trinity Episcopal Church in Galveston since 1945 and a member of Sweet Adelines International. She was incredibly devoted to her family, loving them immensely and unconditionally. She was adored by her family and many friends. She was extremely kind with a great sense of humor and wit!
She was preceded in death by her sister, Myrle Pynn Antle, and brothers, Wallace, Henry, Donald, and Gordon Pynn.
She is survived by her daughter, Myrle Garber-DeOre and husband David Allen DeOre Jr.; granddaughter, Stacie Garber DeOre and husband David Anthony DeOre; brothers, Gerald Pynn and wife Jean, sister in law Betty Pynn; and great-granddaughters, Avery Paige Pynn DeOre, and Elizabeth DeOre; many nieces and nephews; many great nieces and great nephews.
The family would like to thank Friendswood Health Care Center for their care.
Visitation will be held from 5 p.m.-8 p.m. Sunday, August 2, 2015 at Crowder Funeral Home in Dickinson, Texas.
Funeral Services will be held on Monday, August 3, 2015 at Trinity Episcopal Church in Galveston, Texas. Visitation held at Trinity from 9 a.m.-9:45 a.m., funeral service beginning at 10 a.m. After funeral service, brief reception at Eaton Hall at Trinity Episcopal Church, with interment following at Galveston Memorial Park Cemetery in Hitchcock.
Honored to serve as pallbearers are David Allen DeOre, Jr., David Anthony DeOre, Robert A. Crossman, Billy Nelson, Jr., Travis Swindell, and Danny Dundee.
In lieu of flowers, memorial donations may be made to the Shriners Burn Institute in Galveston, Texas.