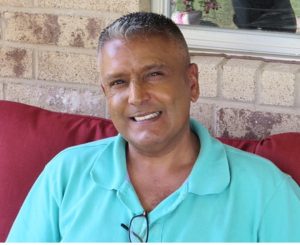 Steven LeRoy Villarreal went to be with his Lord and Savior on, September 29, 2023. He was born in Houston, Texas, on December 22, 1967. Steven was greatly loved by his parents, LeRoy and Irene Villarreal, his brother, Joseph Villarreal and his sister-in-law, Angela. He was adored by Abby and Ethan Villarreal, his niece and nephew.
Steven was funny, witty, loud, emphatic, always spoke his mind and could be very intimidating with his sharp and extraordinary vocabulary. He loved to cook, listen to music, and watched his favorite Star Wars, Star Trek and Deep Space Nine episodes repeatedly. PBS, NOVA, and NPR were his go to programs, with a keen interest in historical documentaries. He was passionate about holidays and took great pride in preparing the family feasts, particularly his delectable turkey and dressing. His love of pottery and ceramics was demonstrated in the many pieces he created and hand cast himself, with a special love for Raku. He was fascinated by the process that created such color and beauty.
A consummate intellectual, at an early age, Steven was very serious about his education. He was especially proud of his success in debate, science, physics and mathematics. An avid reader, he would research, analyze and dissect any subject he delved into. His many awards and recognitions in high school earned him a position in the National Honor Society, a National Merit Scholar Award, and he was also selected to attend Boy's State.
His hard work paid off, he was accepted twice to the Massachusetts Institute of Technology. First, as a sixteen-year-old into the Massachusetts Institute of Technology Engineering Program (MITES), secondly, as a college student at MIT. He was a dedicated participant in Project Athena, a project partnered by MIT, IBM and Digital Equipment Company to provide computer workstations for students working on aerospace engineering, language learning, educational projects and much more. A project he thoroughly embraced. He was enormously grateful at being afforded the opportunity to attend MIT.
At the age of 17, he acquired his first job, at IBM. His knowledge, creativity and ingenuity allowed him to be part of the team developing the RISC architecture for the new IBM 4341 processor. An opportunity that opened a new world for him. Consequently, he was engaged with Apple Computer as a developer.
Steven was a strong believer and gave all the glory to his Lord Jesus Christ. He was rooted in faith. One of his favorite sayings was, "it's only by the Grace of God we survive all life hands us".
Always an optimist, he gave a willing and helping hand to everyone, wherever he could, particularly in the computer arena, being an expert in hardware and software.
Steven is cherished and loved by his surviving relatives, grandfather, Raymond Mancha, his many aunts, uncles, cousins, friends, extended family, colleagues and acquaintances. He will be profoundly missed by all. His passing leaves an ache in our hearts and……
"AS THE WIND BLOWS, SO SHALL WE REMEMBER"
Steven's life will be celebrated with family and friends on Saturday, October 7 from 1-6 PM at the Crowder Funeral Home in Pearland, Texas.
Rite of Committal and rosary from 2-3 PM.