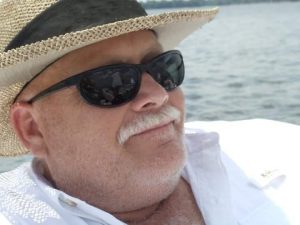 Steven Howard Fisher, 58, longtime resident of Houston, passed away January 10, 2017 in Houston, Texas. He was born June 4, 1958 in Charleston, WV to parents William W. Fisher and Elberta C. Fisher.  Steve was a graduate of Clear Lake High School and attended Baylor University in Waco, Texas. He was a member of the International Union of Operating Engineers Local 564 and Beta Theta Pi, formerly Taurus. He was a longtime employee of Union Carbide and Dow Chemical of Texas City.
He is survived in Houston by his wife of 13 years Heidi D. Fisher; his parents Elberta and William Fisher; mother-in-law Brenda Garner; father-in-law Corky Downer; daughter Stefanie D. Fisher; son Ross W. Fisher; and sister Cynthia J. Fisher. He is also survived by his brother Jeffrey W. Fisher and wife Tammie M. of Tampa, Florida, as well as numerous other family and friends.
Visitation will be held on Thursday, January 12, 2017 from 4 p.m.-7 p.m. at Crowder Funeral Home in Dickinson, Texas. Funeral services will be held at 10:30 a.m. Friday, January 13, 2017 at Crowder Funeral Home with interment following at Mt. Olivet Cemetery in Dickinson, Texas.
The family suggests that memorials be made to MD Anderson Cancer Center at gifts.mdanderson.org.