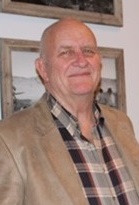 Steve Tackett, 73, of Dickinson, Texas, succumbed to cancer Saturday, September 24, 2016.
Steve was born November 6, 1942 in Weatherford, Texas to Jack and Mary Tackett. He graduated from Weatherford High School in 1961 and from Stephen F. Austin University in 1966. On May 23, 1964 he married the former Patsy "Patti" Wyatt in Grand Prairie. Steve worked early in his career as a teacher and high school football coach, which included Dickinson High School's state championship in 1977.  In 1979, he began working for Exxon, U.S.A. where he later retired.  Regardless of his place of employment or job, Steve was always a teacher at heart.  He loved sharing his knowledge and skills.  He enjoyed reading history, fishing, hunting, and indulging in the occasional conspiracy theory. He had a wicked, deadpan sense of humor and loved a good practical joke.  Those who know him best will remember his commitment to family.  He spent the last 20 years of his life caring for his stricken wife, Patti.
Steve is survived by his: mother, Mary Tackett; sister, Kathy Jordan; brother, Mark Tackett; wife, Patti Tackett; two daughters, Stephanie Tackett and Maryann Bandlamudi; his son, Stephen; his wife, Patti; his five grandchildren, Jacy Tackett, Camden Turner, Madeline Tackett, Sam Bandlamudi, and Betsy Bandlamudi; and several nieces and nephews. He was preceded in death by his father, Jack Tackett in 1972.
A celebration of life service will be held at 7:00 pm, Tuesday, September 27 at Crowder Funeral Home, East Main Street, League City, Texas 77573.  Friends may call and visit from 5:00 until 7:00 p.m., Tuesday at the funeral home. Burial will follow on Thursday, September 29 at 11:00 AM at Annetta Cemetery in Annetta, Texas with a reception following at Center Point Baptist Church.
In lieu of flowers, the family would like to encourage a donation to the Salvation Army of Galveston County.