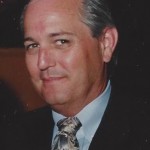 Stephen Patrick Simons, 64, passed away Saturday, November 1, in Houston. Steve is survived by his wife Debbie, three sons; Everett and wife Colleen of Kingwood; Levi and Gabriel and Pamela Vandiver of Houston as well as two step-sons: Corey Newsom and wife Barbara of Katy and Scott Newsom and wife Annette of League City.
Steve loved his seven grandchildren: Zachary, 13; Hannah 12; Caleb 11; Tyler 10; Chloe and Jacob 7; and Andrew 5. He always treasured special times with them. Also, he is survived by his second family in Slaton and Lubbock TX of which there are many cousins and friends including "brothers", Tom, Danny, Doug and Lance Hlavaty and their families.
Steve was preceded in death by his parents, Stanley and Marjorie Simons, grandparents Ermel and Patrick Hughes who formed Steve's early years, and his brother David Simons. Steve was born in Fresno, California, and grew up on Donner Lake, in Los Angeles and Ventura. Relocated to Houston in 1984 where he was employed with Hydril Co., Humble, Texas for 25 years, earning 7 patents for his work with blow out preventers. Steve was well respected in his second career where he worked for 15 years as a senior business analyst with IBM, CD Group & Capgemini.
Steve had many interests and talents: licensed pilot, sail boating, power boating, fishing, dirt bike riding in the hills of California. He was a Gold Wing road rider, played guitar, a Parrot Head Club member of Galveston Bay, a jack of all trades and master of most. Steve was well traveled and loved the Caribbean and had a passion for sailing, but his favorite past time was cooking for family and friends. He was a self accomplished chef. He loved helping people in any way he could and gave his time without reservation.
Steve was blessed to have many caretakers and a special thanks to the nursing staff and Doctors of St. Luke's Hospital in med center and St. Luke's Kirby Glen Outpatient Center.
For those who wish to honor Steve's memory, a contribution in his name to your favorite charity or to Baylor St. Luke's Medical Center Fund at St. Luke's Foundation 1213 Herman Dr. Ste 855 Houston, TX 77004. Please make checks payable to St. Luke's Foundation. A private service has been scheduled, your thoughts and prayers are appreciated.