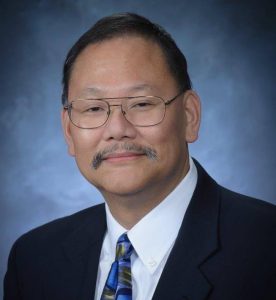 PLEASE NOTE THERE HAS BEEN A LOCATION CHANGE FOR THE HOUSTON, TX MEMORIAL SERVICE, TO THE GILRUTH CENTER, UPDATED INFORMATION IS BELOW.
Stacey was born in Los Angeles on March 4, 1958 to Stanley and Betsy Nakamura. Four years later, his sister, Charlene was born and the family moved to the burbs – Canoga Park, California in 1963. From a young age, it was apparent that Stacey was intelligent (some would say a genius) and he skipped a grade in elementary school. Not only was he book smart, he was also a talented musician, taking up the accordion at age 5 and transitioning to piano in his teens. He tortured his sister with endless afternoon rehearsals of "Flight of the Bumble Bee" by Nikolai Rimsky-Korsakov and "Funeral for a Friend" by Elton John. He graduated at the top of his class from Canoga Park High School (CPHS) and was the second CPHS grad to be accepted to and attend Massachusetts Institute of Technology (MIT) in 1975. At MIT, his freshman year roommate was George Celniker, a lifelong friend who helped Stacey during his battle against the Big C. Stacey and George both became members of Pi Lambda Phi fraternity, which sparked Stacey's interest in volunteering and giving back to the community. Fraternities at MIT helped students transition from high school to college (how does one go from a public high school to MIT???). His fraternity brothers discovered Stacey played piano and the accordion so Stacey was often asked to play at frat parties – imagine hearing the accordion rendition of "Stairway to Heaven". Stacey was very much the glue that kept his brothers connected these past 45 years.
Stacey used that extra year he gained in elementary school at MIT and he graduated in 1980 with a MS in Chemical Engineering. He landed his dream job, working for NASA at Johnson Space Center (JSC) in Houston. Stacey was so excited to start working that he moved right after graduation from Boston to Houston and reported to JSC on June 1, 1980 as a Quality Engineer in the Office of Safety and Mission Assurance. As someone that grew up with enthralled by the Apollo program, he was thrilled to work at NASA and the Space Shuttle program. Five years later, he was promoted to Chief Engineer; few moved so quickly up the ranks before the age of 30. Stacey was given many assignments and challenges during his time at NASA (all in the Office of Safety and Mission Assurance) and his family thanks NASA for presenting him with his 40 year service award shortly before his passing.
Stacey believed in a work/play balance. Not only did he participate social activities at JSC, like the annual chili cook-off but he encouraged his co-workers to join him. Stacey was also one of the early members of JSC's Diversity Council established in the 1990s. It seems only fitting that the newest class of astronauts is NASA's most diverse and the first-ever public graduation ceremony took place within days of his passing.
Stacey was instrumental in growing the South Texas branch of the MIT Alumni Association. This allowed him to easily meet fellow MIT Alumni in Houston and throughout Texas. Soon, Stacey formed a band of fellow MIT alums and the group used to perform at The Outpost once a few times a month. He also provided support to other MIT Alumni chapters and he received the MIT Bronze Beaver Award in 2017.
Stacey was diagnosed with Stage 1 Multiple Myeloma in January 2012. In true Stacey fashion, he passed away exactly 8 years to the day of his MM diagnosis. He was determined to beat this and in Stacey fashion, he learned everything about the disease and available treatments. It seemed as though he succeeded when tiny tumors were found in January 2018. He only let a handful of people know he was fighting a new battle.
Stacey is survived by his father, Stanley; sister, Charlene (Neil Fletcher); nephew, Angus Fletcher; niece, Gracie Fletcher and his NASA, MIT and Pi Lambda Phi families.
A memorial service will be held on Saturday, February 29th at 10am at the Gilruth Center, 18600 Space Center Blvd., Houston, TX 77058. There will be an additional memorial service on Saturday, February 22nd at St. Mary's Episcopal Church, 961 S. Mariposa Ave., Los Angeles, CA 90006 (final arrangements pending) for those who are unable to attend the service in Texas. In lieu of flowers, the family requests donations made in his honor to the International Myeloma Foundation, the Leukemia & Lymphoma Society or MD Anderson Cancer Center.