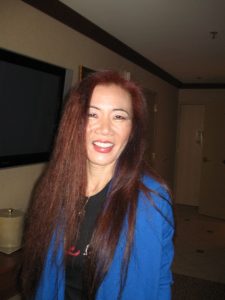 On Monday, June 1, 2020, Son Hui Kim a resident of Seabrook, TX passed at St. John Methodist Hospital in Nassau Bay Texas at the age of 60 after a strong fight against lung cancer.
Son Hui was born on September 27, 1959, in Euijongbu City Kyonggi-Do (States) South Korea, the daughter of Kim Boonyoun (Mother) and Kim Chonsoo (Father).
Son Hui married Ronald Romanoli in 1978 and moved to Memphis Tennessee where she and her husband had two sons David and James. Ronald and Son Hui were divorced in 1988 and Son Hui applied for and became a United States citizen on May 4, 1988. On November 20, 1990 Son Hui married Vincent Godlewski and moved to Arkansas where she and her husband had a son Eli Godlewski.  Shortly afterward Son Hui and Vincent separated and divorced several years later and Son Hui entered the world of business for the first time working a number of different professions in various areas in the United States ranging from women's shoe sales to restaurant food service to retail sales, manufacturing, to partnering with another individual to initiate a new fast food franchise. Son Hui moved to Houston Texas in 2009 and soon met a man, Dean Cubley, that she later fell in love with and referred to as her true soulmate and her "Yobo" and with whom she would spend the last eleven years of her life.  During the period 2009 until her death Son Hui became an avid homemaker, gardener, shopper, and animal advocate as well as working as a residential property manager.  Son Hui was also highly devoted to her family and her sons and two grandsons.  Her favorite pastime was to ride around the Seabrook area on her way to grocery shopping in her old 2007 convertible and to wave at, and talk to, the birds as she would pass them.  On occasion she would buy large amounts of bird seed to feed the birds at Clear Lake Park.  Son Hui was an outgoing type of person that made friends with everybody she met.  She was a devout Christian and was passionate about helping those in need.  Her favorite charity was St Jude Children's Hospital in Memphis Tennessee to whom she contributed for many years.
She is preceded in death by her father Kim Chonsoo, her oldest brother Kim Sangsoo, and her son Karl David Romanoli.
She is survived by her son Eli Godlewski, her son James Romanoli, and two grandsons Julian Romanoli, and David Romanoli.  She is also survived by her mother Kim Boonyoun, her brother Kim Sangkyoon, brother Kim Sungjoo and his wife Yoon Sookyoung, and nephew Kim Hyerim, brother Kim Sanghoon as well as many other family members in South Korea.  She is also survived by her beloved soulmate and Yobo.
Son Hui will always be remembered for her sweet smile and the joy she brought to all who came in contact with her.  The Clear Lake area was truly blessed to have her here for eleven short years.  She will be missed by all.
The Family will receive friends on Saturday, June 27, 2020 at 2:00PM with a Celebration of Life Ceremony at 3 o'clock at Crowder Funeral Home, 1645 East Main, League City, Texas 77573.
In lieu of flowers please send donations in the name of Son Hui Kim to the St Jude Children's Hospital in Memphis Tennessee.  www.stjude.org  You may send the St Jude memorial card to the family via Crowder Funeral Home, Funeral Director 1645 East Main Street League City Texas 77573. Or alternatively email to hdc@erfwireless.com.