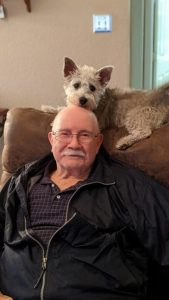 Our loving, amusing, and Godly Dad, father-in-law, PawPaw, and Papere', Sidney Baker, peacefully passed away and into the arms of his Savior on May 13, 2022, in Angleton, Texas.
Sidney was born November 23, 1933, in Crowley, Louisiana. He married the love of his life Verna (LaBove) Baker, on December 25, 1952. She preceded him in death almost exactly a year before.
Dad is survived by his daughter, Melanie Cox (husband Bill Cox), along with his two sons, Denis (wife Marlene) and Reggie (wife Jane), Grandchildren, Chris VanDerbeck (wife Ashley), Laura Gathings (husband Will), Joshua Baker (wife Amy), and Lacie Baker. Seven great-grandchildren also survive him: Evelynn VanDerbeck, Temperance Gathings, Samuel Gathings, Etta Gathings, Cailee Baker, Chloe Baker, and Caden Baker. He is also survived by his sister-in-law, Leola Kimball, and numerous nieces and nephews.
Sidney served eight years in the United States Airforce as a Crew Chief for the F-86, F101, and F-104 fighter jets during the Korean and Vietnam wars. We want to thank his grandson, Joshua Baker (a former US Marine), for ensuring his care and support were fully received from the Veterans Administration.
He loved sports, especially baseball. His favorite teams were the Houston Astros and Houston Oilers (back in the day). He worked as a maintenance person for many years, retired as a Door and Lock Maintenance Technician from the TX Department of Criminal Justice, and later retired from the Brazoria County Drainage District.
Dad spent much of his retired time being with his wife of 69 years. He enjoyed reading his bible, watching sports games, western and military shows, and always listening to Cajun Music in his free time. He enjoyed projects at home, including maintaining his landscaping, planting flowers, and building birdhouses.
We want to give a special thanks to Tammie and James Bell and the family for taking Dad into their home and going above and beyond to give him such loving care.
We would also like to thank the hospice nurses at A-Med Hospice for their loving care and support during his final days.
Visitation and a short service will be held on Tuesday, May 17, 2022, from 3-5 PM at Crowder Funeral Home at FM 517, West Dickinson, TX 77539. A private family burial will be held at the Houston National Cemetery.