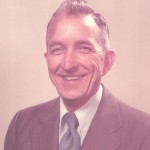 Sidney Allen Ratisseau,86, Born August 3,1928 passed away November 8, 2014 with his loving family by his side.
Sid was born in Houston ,Tx. to Louis B. and Buelah "Boots" Ratisseau. He was a graduate of Stephen F Austin High School, where he was a member of the ROTC.
In 1947 Sid enlisted in the United States Air Force, and loyally served his country in Korea. Upon his return he made a career of military service, and held dual status in both the Air Force 147th Fighter Group and the Texas Air national guard at Ellington A.F.B. Attaining the rank of SR. master sergeant. He served as Fuels Manager for the base, fueling aircraft for the 147th Fighter group, NASA and Air Force One when the president would come to Houston. In 1988, Sid retired, to his home in Pasadena, Tx. November 4th of 1955 he married Dorothy E Wright,and to that union was born a daughter and son. After the November 8th, 1972 death of wife Dorothy, Sid met and married Jane B. Whelton. They enjoyed 37 years of marriage.
He is survived by his wife, Jane B. Ratisseau, Daughter Vanessa Ratisseau-Armstrong and husband Able, Son Philip J. Ratisseau and wife Connie. 10 grandchildren, 12 great grandchildren, Caretaker Evelyn Ballard and numerous relatives and friends, whom are viewed as family.
A Visitation will be held on Tuesday, November 11, 2014 from 6:00 PM to 8:00 PM with a Vigil Service at 7:00 PM at Crowder Funeral Home – Webster, TX. A Funeral Mass will follow on Wednesday, November 12, 2014 at 10:00 AM at Crowder Funeral Home, Webster. Interment will follow at Grand View Memorial Park, Pasadena, TX.