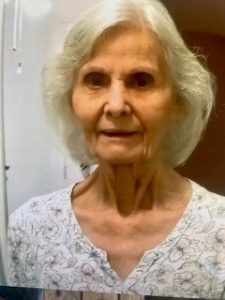 Sherry Lynn Tacquard, 86 years old, residing in Newton, Texas passed away on November 28, 2022.
Sherry was born on June 26, 1936, in Galveston, Texas, to Raymond and Dorothy Tannehill.
She is preceded in death by her husband, Joseph Tacquard; her son, Raymond Tacquard; her parents, Raymond and Dorothy Tannehill; and her grandson, Wesley Doss.
Survivors include: sister, Gail Conners of Sundown, New York; daughter, Jo Anne Wells of Houston, Texas; daughter, Joyce Schadler of South Toledo Bend, Texas; grandson, Nathan Schadler of Cumming, Georgia; two great grandsons, Oliver and Jeremiah Schadler of Cumming, Georgia.
She loved her cats and enjoyed traveling and playing games with her friends. She will be remembered for her beautiful oil paintings.
A celebration of her life will be at Hayes Grace Cemetery  in Hitchcock, Texas on November 30 at 11:00 a.m.