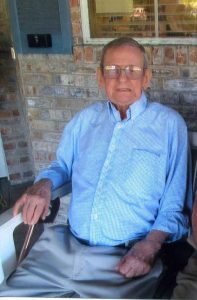 Sherman C. Landon, 88, passed away peacefully on October 8, 2019. He was born in Hornell, New York on January 4, 1931.  Sherman attended military school and subsequently joined the U.S. Air Force where he served honorably during the Korean War. He worked as the Funeral Director at his family owned business before he and his now deceased wife, Edith Finkle Landon, moved to Houston, Texas in 1963, where they resided for the remainder of their years. Upon moving to Houston, Sherman was employed by the U.S. Postal Service, where he was a letter carrier for thirty years.
Sherman is survived by two step-sons, Terry Finkle and Gary Finkle. His step-daughter, Kay Quire, passed away on February 23, 2019. He is also survived by three step-granddaughters, Sherry Quire, of League City, Texas; Tracie Finkle of Dickinson, Texas; Stacy Finkle of Houston, Texas; and Kary Newsome of South Carolina.
Special thanks goes to Heart to Heart Hospice and Seasons Personal Care Home in Hitchcock for the excellent care provided to Sherman. Remains will be cremated and kept with family. Services are not planned at this time.