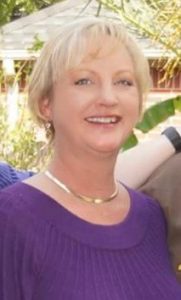 Sharon Lynn Hausinger, 59, of Pasadena, Texas passed away July 1st, 2018 at her home.  Mrs. Hausinger was born August 1st, 1958 in Pasadena, Texas, and has resided there all of her life.
Mrs. Hausinger is preceded in death by her parents Eugene and Lillian Richardson.
Sharon is survived by her husband of 35 years William Hausinger III; daughter Ashley Graham and husband Cody; son Hunter Hausinger; sister Linda Stokley and husband Quintin; two brothers Craig Richardson and wife Caroline, and Steven Richardson.
There will be a visitation at 10:00 a.m. Saturday July 7th, 2018 at Clear Lake United Methodist Church 16335 El Camino Real, Houston, TX 77062.  Funeral service will begin 11:00 a.m. Saturday July 07, 2018 at the church with Dr. Mike Deaton.  Pallbearers will be Craig Richardson, Steven Richardson, Johnny Mulvahill, Craig Tinnin, Cody Graham, and Josh Krakowiak.
Things we loved about Sharon…
As a child, Sharon loved to play piano, took dance lessons, and was active in school clubs such as Mathematics, German, and Latin. After high school she met the love of her life, Billy, and they started their little family just a few years later.  Throughout life, Sharon enjoyed spending time at the family lake house built by her father. She loved to read books on the porch, and going out on the boat. She was an excellent water-skier and also loved to snow ski on our vacations to Colorado. Sharon earned her Bachelor of Science from the University of Houston Clear Lake in Marketing and was very accomplished in this high demand industry. When her children Ashley and Hunter were growing up, she was active in their school fundraisers, athletics, and PTO. She loved having pets in the house, was always willing to help out a friend, and was incredibly loved by everyone who knew her.