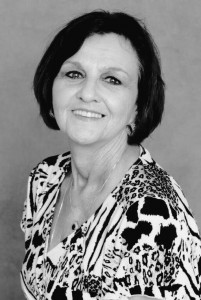 Sharon Porta Edmundson, 65, of Dickinson, Texas, passed  away  on the morning of Friday, September 11, 2015. She was born May 27, 1950 in Galveston, Texas. Sharon was a resident of Dickinson formerly from Hitchcock and Galveston. She had worked on Galveston Island in the Title Industry for over 33 years and recently retired from South Land Title in 2014.
Sharon was a loving mother, grandmother, sister and a dear friend to many. Her family and friends will never forget her kind heart, big smile and most of all her vibrant and sassy attitude which brought laughter to many.
Sharon is preceded in death by her mother, Helen DeArmond Ambeau; father and stepmother, Norris and Mildred Porta; and her oldest sister, Norma Kling. She is survived by her daughter; Melissa A. Carpenter of Santa Fe, two sons; Patrick L. Edmundson, Jr. of Oklahoma City and Norris L. Edmundson, Sr. and his wife Kellie Shotwell Edmundson of Hitchcock, two sisters; Ina Marcelle and her husband Scott of Pasadena and Catherine Yaw of Baytown, three grandchildren; Kristin Dawn Hatmaker and her husband Daniel, Lauren Machelle Carpenter, and Norris Louis Edmundson, Jr., numerous nieces, nephews, extended family members and friends.
Visitation will be at 10:00am on Saturday, September 19, 2015 at the James Crowder Funeral Home in La Marque. A Memorial Service will be held at 11:00am at the James Crowder Funeral Home in La Marque on Saturday, September 19, 2015.
In lieu of flowers the family asks that memorials be made to St. Jude's Cancer Hospital.