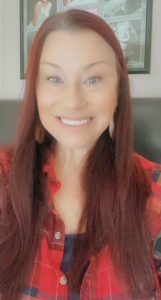 Shannon Marie Nosek, 42, passed away in her sleep on April 21, 2021 at her home in Webster, TX.  She was born on August 5, 1978 in Toledo, OH to Richard E. Nosek and Marie K. (Titchnell).
Shannon is survived by her children, Chelsea Nosek, 19, and Justin Young, 14; Father, Richard Nosek, Stepmother Susan, Mother, Marie and Stepfather Steve Titchnell; Great Uncle Don Bies, Warren, MI, Great Aunt Helen Bies of Rochester Hills, MI; Uncle Thaddeus Nosek and Aunt Christine of Shelby Township, MI, Uncle Bob Sirocki and Aunt Theresa Sirocki of Sterling Heights, MI; Uncle Robert Parrott and Aunt Gerry of New Brighton, MN; Cousins Tim Nosek, Terry and Tina Nosek, Lisa Nosek, Brian Nosek, Steve Parrott, Brad and Amy Parrott, and Collene and Rodger (Dabish).
Shannon had a talent for art and music and loved to watch movies.
A one hour viewing will be held on Tuesday, 4-27-21 beginning at 2:00 pm at the Crowder Funeral Home 111 East Medical Center Webster Texas 77598.  A celebration of her life will be held at a later date.