Shakuntala Ramchandra Patil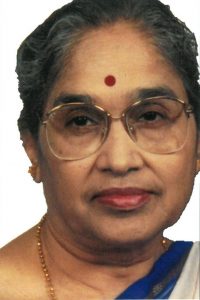 Shakuntala Ramchandra Patil was born in Pune, India on August 2, 1932 and passed away on February 15, 2018.
Mrs. Patil is preceded in death by her husband, Ramchandra Patil.
She is survived by her daughter, Anjali V. Pawar; son. Deepak R. Patil; sisters, Vijaya Salunkhe; brother, Dhanajirao Jadhav; grandchildren: Shon Patil, Shyama Patil and Rahul Pawar; great grandchild, Rafael Arjun Pawar.
Memorial service will be held on Saturday, February 24, 25018 at 2pm in the chapel of Crowder Funeral Home, 2422 Broadway, Pearland, TX 77581.