Sedonie "Sonny" Joseph Manuel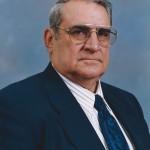 Sedonie "Sonny" Joseph Manuel, 76, was taken into the loving arms of his Lord and Savior at his home with his family surrounded by his side. Sonny's devoted Catholic faith and dedication to his community defined his life.
Sedonie Joseph Manuel was born June 17, 1937 in Galveston, Texas, by a mid-wife at 1717 – 18th Street. Better known to his family and friends as "Sonny", he was the youngest of three children born to Constantine and Cecile Manuel. Sonny moved to La Marque in 1961. He retired from Amoco Oil after 24 ½ years. He also worked for Falstaff Brewery in Galveston and was a member of the Local Union "OCAW 449".
On June 8, 1959, Sonny married his sweetheart Magdalena "Maggie" Garcia. Together they raised four children, Michael, Walter, Donnie, and Rebecca. Sonny was a devoted Christian husband and loving father. He was a member of Queen of Peace Catholic Church in La Marque, Texas. Sonny was always involved in his children lives from PTA, coaching boy's little league baseball, girl's soft ball, 4-H projects and the Boys and Girls Club. He loved to travel to different cities and states with his daughter Becky to support her in her many athletic ventures. He was always so proud of her hard work and accomplishments. He also enjoyed hunting and loved taking his children hunting with him. He was also proud of his two grandchildren, Magdalena "Magpie" and James Donald "Bubba" Manuel, Jr.
Sonny and Mr. Jessie Castro were instrumental in helping to bring the girls softball program to the LMISD High School under Superintendent Dr. Mike Moses. Sonny also served his community by being elected to the La Marque City Council for two terms, 1997 – 2001, one year as Mayor Pro tem and three years as a City Councilman. Sonny was an honest and hard-working man who would do anything in order to make sure that the city of La Marque was a successful and thriving community. He had the most wonderful sense of humor and was always joking around. During the holidays, he would always make sure to buy extra turkeys along with all of the trimmings for less fortunate families in the community. He would always say, "It's better to give than to receive". He would never pass a small child without giving them a quarter, "if it was ok with their parent". He tirelessly and unselfishly fought for La Marque, always letting others know exactly how he felt.
Sonny loved his family with all of his heart. He is welcomed home by his parents, brother Gus Manuel, sister Katherine Newell, also his in-laws Tony and Rebecca Garcia.
Visitation will be Thursday, March 20, 2014 from 6:00 p.m. to 8:00 pm with a Rosary Service at 7:00 p.m. at the funeral home. Funeral services will be 10:00 a.m. Friday, March 21, 2014 in the Chapel of the James Crowder Funeral Home in La Marque, Texas, with Father Chacko Puthumayil, officiating. Interment will follow at Old Catholic Cemetery in Galveston, Texas.
Serving as pallbearers will be Judge Lonnie Cox, Mayor Bobby Hocking, Mac Mc Gaffey, Councilman James Osteen, Manuel Guajardo and Onesimo Alavarez. Honorary pallbearers will be Lloyd Criss, Jessie Castro, Eddie Grady and Simon Simeon.
The family would like to thank all of our friends and family throughout Galveston County for your kind words, prayers and comfort. In lieu of flowers, memorial may be made to the charity of your choice.