Patricia S. (Quinlan) Torre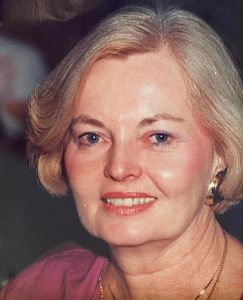 Patricia S. (Quinlan) Torre passed away peacefully on June 20, 2023, surrounded by love at the Heartis Clear Lake Senior Living Webster, Texas. She was born on October 14, 1933, to the late Michael and Jean (Jennie O'Hara) Quinlan of North Bergen, New Jersey. Pat is survived by her devoted husband of 69 years, Gabriel. She leaves behind her two children, son Paul R. Torre, MD, and his wife Ana of Houston, Texas, and daughter Lisa Torre Elliott, RN, and her husband Craig, MD of Storrs, Connecticut. In addition, Pat was blessed with five wonderful grandchildren (Alexis Torre, DVM, and husband Thomas Key, Paul G. Torre, and wife Elise, Michael Torre, MD, and wife Kelcee, PA-C, Sarah Patricia Elliott, RN, and Rebecca Elliott, PsyD), two great-grandchildren (Lily and Alice), and many nieces and nephews who meant the world to her. Her family was her pride and joy; they will all remember her fondly and lovingly. She was predeceased by her loving sisters, Jean Powers, Eileen Arszal, and Denise (Mickey) Rinaldi Kenny, and survived by her oldest sister Kathleen Hall.
Patricia (born Sarah Patricia Quinlan and called Pat) graduated from Cliffside Park High School and married her high school sweetheart Gabriel. Pat attended the Tobe-Coburn School of Fashion in NYC and afterward was a professional runway model, modeling in New York City and other major cities in the US. Pat was an officer in the Women's Club of Paramus and served as County Committeewoman for the Republican Party of Bergen County, NJ. Pat devoted her life to being a loving wife and mother to her two children and her roles as a daughter, sister, grandmother, and great-grandmother. She was a woman of extraordinary gifts as a mother, wife, grandmother, and friend. Like her mother, Jean, she had that same indomitable spirit that lives on in her children, grandchildren, and great-grandchildren. She will be remembered for her strength of character and generosity of spirit. Her love and loyalty to those close to her were her driving force. Pat was a great friend with many strong and fierce lifelong women friends who supported each other. Pat and Gabriel shared great friendships with their siblings and spouses and many other friends who became family to them. They were always the last to leave the party because both Pat and Gabriel were the life of the party.
Pat and Gabriel raised their family in Paramus, New Jersey. They also lived in Washington Township and Ramsey, New Jersey, before moving to Seabrook, Texas, in 1994. After raising her children, Pat returned to the fashion world as the Fashion Coordinator and Special Events Director for B. Altman & Co. at the Fashion Center, Paramus, NJ, handling all its modeling fashion coordinates, public relations, and personal appearances at the store by famous personalities of the '70s and '80s. In addition, Pat founded and was President of Bay Area Estate Sales for the greater Houston area for many years and retired in 2015. She was proud of the number of families she could assist through the emotional concern of moving with minimal stress at a maximum profit for the families. Pat received many awards throughout her career, the proudest of which was a plaque presented by the New Jersey Police Benevolent Association as one of New Jersey's Heroes of the Year. She saved the life of a drowning 2-and-a-half-year-old child.
The family wishes to thank the entire Heartis Clear Lake staff for their professional and dedicated care these past few years. Pat and her family truly appreciate the love and attention she received. In addition, our family would like to thank the staff of Magnolia Hospice Care for their support these past five months.
In October, a private celebration of life for immediate family and close friends will be held. May we always cherish the beauty of her grace, faith, love, and courage. The best way we can honor her memory is to live with similar grace, faith, love, courage, and adventure.