Santiago "Jimmy" Valle Hinojosa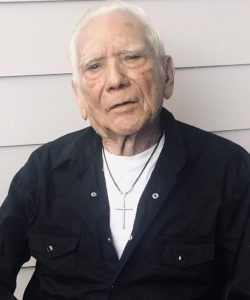 Santiago "Jimmy" Valle Hinojosa, 84, of Texas City, passed away September 22, 2022 in Webster, Texas.  Jimmy was born January 16, 1938 to Aurelia and Basilio Hinojosa in Berclair, Texas.
Jimmy proudly served his country in the U.S. Navy. He worked as an appliance repairman and was the owner of the El Rancho Café in Santa Fe for many years. He was a loving and devoted father, grandfather, and great-grandfather. Jimmy enjoyed spending time with his family, fishing, lottos, and dancing.
He was preceded in death by his beloved wife Mary Hinojosa, sons Jimmy Hinojosa and Joe John Hinojosa, and a grandson Jon Andrew Hinojosa.
He leaves behind to cherish his memory his daughters Laura Copado and husband Danny, Rosa Ramos, Dee Guillen, Agnes Lopez and husband Tico, and Esther Nolasco and husband Jesse; son Rickey Hinojosa; brother Frank Hinojosa; nineteen grandchildren; and twenty-four great-grandchildren.
There will be a visitation in his honor 6:00 – 7:00 PM for the family, 7:00 – 8:00 PM, open to the public, vigil service at 7:30 PM, Sunday, September 25, 2022, with a committal service at the graveside, 10:30 AM, Monday, September 26, 2022, at Alta Loma Cemetery, Santa Fe.
Honored to serve as pallbearers are his grandsons, Alex Lopez, Ronnie Romero, Xavier Nolasco, Sebastian Nolasco, Joe Anthony Hinojosa, and Michael Lopez. Honorary pallbearers are his grandsons Chris Hinojosa, and Sal Aceves.