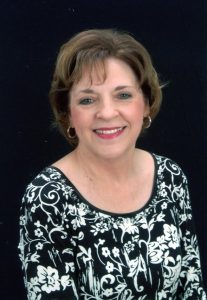 Sandra Theresa Thompson went to be with her Lord and Savior at home surrounded by her family on October 22, 2016. Sandra was born on May 4, 1941 in Kansas City, Missouri and grew up in Chanute, Kansas.  Sandy attended St. Patrick's Parochial School and graduated from Chanute High School. She was married to Corbett Thompson and raised four children.  They moved from Kansas to Texas and lived the last 35 years in the Clear Lake area. Corbett and Sandy just celebrated their 57th wedding anniversary.
Sandra was an incredibly talented quilter and founded the Prayer Quilt Ministry of Gateway Community Church in 2004. Since its inception, it has grown to 25 members and almost 3,000 prayer quilts have been given to those in great need of peace and comfort. Because of her immeasurable giving heart and unwavering faith, many lives have been touched through this ministry.
Sandy was a remarkable wife, mother, grandmother, sister and friend. Her beautiful smile was heartwarming and you always felt welcome in her sweet presence. She was gracious, grateful and giving. Her beauty on the outside reflected the beauty on the inside and even in life's most difficult times, her grace was boundless. This is the legacy she leaves with us all. She loved having family gatherings and took every opportunity she could to spend time with the ones she loved.
Sandra is survived by the love of her life of 57 years, husband, Corbett Thompson, her daughter Debra and son-in-law David, son Corbett Jr. and daughter-in-law Kristina, daughter Bridget and son-in-law Michael. Her adoring grandchildren Ryan, Annie and Alex, her twin sister Susan and husband Gary Hoffmeier, sister Janice and husband Roy Hawley, and sister Cathy and husband Larry Wiles.
Her son Craig, sister Judy Chard, nephew Jerry Chard and parents Lester and LaVerne Greve passed before her and welcomed her into her new heavenly home.
In memoriam honoring Sandy, the Prayer Quilt Ministry of Gateway and the Multiple Myeloma Research Foundation www.mmrf.org are accepting donations.
A celebration of her life will be held at 2pm on Wednesday, October 26, 2016 at Gateway Community Church, 760 Clear Lake City Blvd, Webster, Texas 77598.