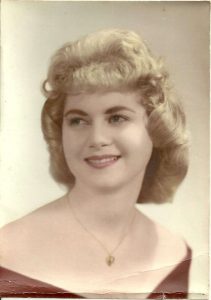 Sandra Lee Newding was born on March 24, 1942 in Galveston.  She graduated from Ball High School where she excelled in her studies and was a member of the TR's.
She was later married and moved to Texas City where she raised her three children, which she considered her greatest accomplishment.  She always woke her children in the morning with a song such as "You Are My Sunshine," though slightly off-key.  She was involved in her children's activities and would volunteer at school with the PTA and with the Girl Scouts.
After her children grew up, she took great pride in her four grandchildren and four great-grandchildren.  She never forgot any of them on holidays or birthdays, sending books, toys, or even a few dollars in a card.
Sandra was a member of Queen of Peace Catholic Church in La Marque where she regularly attended mass. She also worked as teacher's aide while her children attended school there.
She is preceded in death by her parents, Joseph "Joe" Hykel and Sandena "Sandy" Hykel.  She will be greatly missed by her children, Wendy Kortz, Andrea Martin and husband James, Chad Newding and wife Lisa.  Sandra is also survived by her grandchildren, Tiffany Fox and husband Robert, Sami Jo Kortz, Zack Newding, and Dylan Newding; great-grandchildren Jayden and Taryn Fox and Hyatt and Julian Kortz.  She will also be greatly missed by her sister, Marietta Smith and her daughter Sabrina.
The family would like to extend heartfelt thanks to the doctors and nurses who cared for Sandra during her last days who worked diligently to keep her comfortable.
A memorial service will be held at 11:00am, Tuesday, July 30, 2019 at St. Patrick Catholic Church, Galveston Texas.
The family wishes to thank everyone of you for your thoughts and prayers during this difficult time.  Your presence here today means so much to us.  We would like to invite you to join us at Landry's for lunch after Mass ( Landry's , 5310 Seawall Blvd., Galveston, Texas 77551)