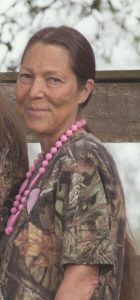 Sandra Kay Cobb, 51, was born March 2, 1966 in Texas City, TX and passed February 2, 2018. She was a resident of Santa Fe, TX for three years and formally of Pearland. She has worked for over twenty eight years at Wholesale Caps in Houston.
Mrs. Cobb is preceded in death by her husband, Randall D. Cobb and her father, Ralph Hodge.
Sandra is survived by her daughters: Ashley Cobb and Kristina Cobb; son, Jason Cobb, wife Magen Davis; grandchildren: Kaylee Cobb, Ryder Cobb, Victoria Lambert, Makayla Lambert and Kobe Lambert; sisters: Frances Hodge and Belinda George, husband Lewis; nephews: Vernon George and Bradley Hinkle; numerous other loving family members.
A visitation will be held from 2-3pm Friday, February 9, 2018 with a service to begin at 3pm in the chapel of Crowder Funeral Home in Pearland.