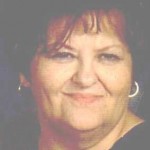 Sandra Hildebrand, 67, of Bacliff, Texas, died June 25, 2014 with her family by her side. She was born in Borger, Texas on March 10, 1947 to Frank and Lucille Cox. She graduated from Clear Creek High School in 1965. She met and married Larry Hildebrand with whom she leaves behind so many great memories over their 47 years together. They have two sons, Lance and Aaron Hildebrand; daughter and son-in-law Lanai and Kevin Turnbough. Her pride and joy were her grandkids that will have the best memories of her, Chance McCoy Shelbi, Reece, Trevor, Lucasey Hildebrand, Kimberly, Levi, Trawick, Trever, Katie Turnbough; and one great grandbaby, Hayden McCoy. She had three brothers, Mike and Diane Cox, Rodney and Claudia Cox, Terry and Doris Cox. She had two best friends that were more like sisters, Zana, Jardina, and Becky Green. She loved all her volunteer work that she got to do over the years. She was on the PTA at K.E. Little Elementary School, a Room Mom, Team Mom, Scout Leader for the boys and girls 4H and FFA Clubs, worked with Casa, and loved her bowling.
Visitation will be held from 6 p.m.-8 p.m. Friday, June 27, 2014 at Crowder Funeral Home in Dickinson, Texas. Funeral services will be held at 10 a.m. Saturday, June 28, 2014 at Bayshore Friends Church, 3507 Walsh St. Bacliff, Texas. Burial will follow at Forest Park East Cemetery in Webster, Texas.
Serving as pallbearers are John Plummer, Dallas Padgett, James Westinghouse, Benji Hildebrand, William Jardina, Sean Cox, and Stacy Hildebrand.
Honorary pallbearers are Chance McCoy, Reece Hildebrand, Trevor Hildebrand, Trever Turnbough, Levi Trawick, and Hayden McCoy.