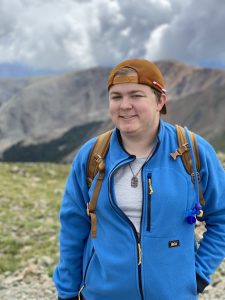 Samuel Thomas McBurnett, 21, of Clear Lake, Texas, passed away on August 27, 2022.  He was born October 12, 2000, in Houston, Texas.  An accomplished Clear Lake High School graduate and scholarship University of Texas Mechanical Engineering Honors student following the Nuclear & Radiation Engineering Technical Track, Samuel was slated to begin graduate studies to obtain his Ph.D. in nuclear engineering next fall. His passion for the nuclear industry was always at the heart of his academic pursuits, from the topics of the documentaries watched in his elementary school free time to the questions explored in his 8th grade Texas Performance Standards Project to his undergraduate jobs, internships, and class selections. Most recently, he conducted undergraduate nuclear research with the UT ME Department, assisting the Nuclear Engineering Teaching Lab during the school year and interning at Los Alamos National Laboratory over the summer, being named a winner in the 2022 LANL Student Symposium for his significant contributions to a cutting-edge computer algorithm used to design radiation shields using artificial intelligence.  Samuel's engineering interests also spanned beyond nuclear: with three internships at the NASA Johnson Space Center, he worked with Space Suit and Crew Survival Systems, Pressure Garment Systems, and Portable Life Support Systems.
Samuel loved music and was a talented saxophone player, earning his place as an All-State musician on tenor saxophone and performing at Miller Outdoor Theater for the Houston Young Artist Concert competition.  As a drill instructor in the marching band, he led his ensemble to the AREA UIL Marching Band Finals.  An Eagle Scout, Samuel enjoyed backpacking and camping, volunteer projects, and living by the scout oath.  He was a certified PADI diver and spent many weekends this summer hiking and scaling peaks in northern New Mexico and Colorado. His excitement for his personal interests knew no bounds; his encyclopedic knowledge of the world included expertise in history, coffee-making, cigars, cars, internal combustion engines, ham radio, 3D printing, lockpicking, hiking, Chernobyl, Hokusai prints, rock/metal/country/rap music, criminal psychology, underwater welding, fountain pens, Formula 1, video games, surfing, tools, electric guitar — the list goes on.
Samuel's passion for cars led him to learn to weld (stick, MIG, and TIG), and he honed his skills enough to earn his machine-shop certification and teach welding processes to undergraduates; in fact, Samuel served as the Frame Subsystem Lead and the Lead Welder for the Longhorn Racing Team. He was always tinkering with something, but he had special pride having rebuilt a 1992 Jeep YJ engine, joyfully driving the remodeled vehicle about town.
Samuel enjoyed traveling the world with his family and experiencing different cultures and traditions.  Immersing himself into the customs and arts, he thrived in learning and creating his own adventures.
With the notion that he might come up with a better solution than what was conventionally accepted, Samuel never took knowledge he hadn't obtained for himself as fact and was determined to develop his own, unique methodology for learning or solving problems.  He devised his own unorthodox but highly effective way to crawl (army-man style), formulated an unconventional knot to tie shoelaces (from which he never strayed), and taught himself to derive any equations necessary to ace a test knowing simple memorization could be faulty; through these instances and infinitely many more, he made it a point to do everything his own way.
In his mother's vernacular, Samuel was "extra."  He pursued his myriad passions with an uncommon zeal, only content when he became an expert in each.  Consequently, he accumulated quite a collection of various and sundry items associated with his interests – three welding machines, drawers full of old electric drills he disassembled and repaired, multiple surf boards, five guitars, scores of fountain pens, and bins full of scrap steel and aluminum with practice welds on every surface.  Never one to rest on his laurels, he recently – much to his parents' chagrin – bought a dilapidated 1972 Honda motorcycle, repaired it, and rode it around town.   
Samuel was a good friend, quick to give a smile, laugh, and kind word to everyone. He relished helping others, whether by offering his technical acumen, by cracking an uplifting, goofy comment, or simply by making those around him feel loved.  He has been an inspiration to many for his generosity and compassion. He sincerely wished his brother Jack greater success than he had achieved, and never failed to call and text his mother on a daily basis. Samuel shared his time with the love of his life, Camille, and together they were inseparable – even when he insisted they travel in the Jeep despite its lack of air conditioning.
Samuel is survived by his parents Matt and Jennifer McBurnett, brother Jack McBurnett, maternal grandparents Marvin and Charlotte Jeffus, paternal grandparents Shiela Ferguson and Mark McBurnett (preceded), Uncle Jason Jeffus, Aunt Nara Jeffus, cousins Liam and Mina Jeffus, and soulmate and partner Camille Villar.
Funeral services will be held Saturday, September 10, 2022, at 3:30 PM at Clear Lake Presbyterian Church with a reception to follow.
The family would appreciate it if you could share a special memory of Samuel on the digital guestbook and welcomes donations to a memorial fund in Samuel's name benefiting the Clear Lake High School Falcon Band (https://form.jotform.com/222475994748171) or to the Houston Humane Society (https://www.houstonhumane.org/(Give)/giving/general-donation).