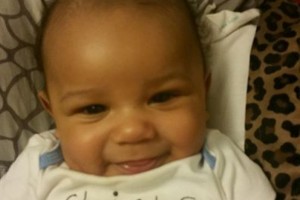 Visitation Thursday, April 23 from 6-9 pm at Crowder Funeral Home in Webster. Funeral Service 11 am Friday at the funeral home with Graveside to follow at Mount Olivet Cemetery – Dickinson.
An Angel in the book of life wrote down my baby's birth, and whispered as she closed the book "too beautiful for Earth."
Baby Sammy was called home to be with the Lord on April 15, 2015. Sammy was a Christmas baby. The best gift a mother could receive and while his time here with us on Earth was short, he impacted so many lives and was loved by all. We may not ever understand why such a precious angel was taken from us so soon but we must stay strong in our faith and trust in God's plan. Sammy left behind his loving mother, Heavenly his loving father, Frederick and three beautiful sisters.