Ruth Robinson of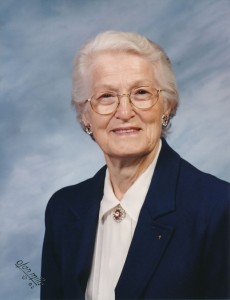 League City, Texas died peacefully in her sleep on the morning of February 9, 2015. She was 91 years old. Ruth was born to Fred and Caroline Steege on February 13, 1923 in Readlyn, Iowa. She was the tenth of twelve children, and worked the family farm with her siblings through the hard years of the Depression. Contracting polio at sixteen, doctors believed she would never walk again, but Ruth was blessed with great fortitude, courage, and faith. While her family was out in the fields, she built her strength up day by day until she'd made a full recovery. She would display that incredible strength in service of others throughout her life.
During WWII, she worked the assembly line in a Los Angeles munitions factory while her husband, Alfred Robinson, fought on the beaches of Normandy. After the war they had three children: Frederick, Michael, and Gloria, living in Chicago, Illinois before settling in Galveston in 1962. A gifted baker, Ruth served with great energy and skill on the kitchen staffs of Galveston-area public schools for over twenty years, and in her own home prepared fresh loaves of bread each week for family, friends, and neighbors. She was a loving, generous, and nurturing person, whether tending her hundreds of plants and flowers or hand-sewing clothes for the whole family. A woman of devout and abiding faith, Ruth was a member of the congregations at St. John's Lutheran Church in Galveston, Faith Lutheran Church in Dickinson, and lastly Gloria Dei Lutheran Church in Nassau Bay.
Ruth was preceded in death by her parents, her husband of 32 years, Alfred Robinson, her son Frederick Robinson, her granddaughter Shannon Robinson, and her eleven brothers and sisters.
Ruth will be deeply missed by her daughter and son-in-law, Gloria and Dewey Brunt; her son and daughter-in-law, Michael and Sharon Robinson; and six grandchildren, Scott Robinson, Erick Robinson, Jonathan Brunt, Christopher Brunt and wife Chanelle, Jillian Robinson, and Hailley Saylor and husband Jonathan.
Thank you to the wonderful staffs at Regal Estates Assisted Living, Harborview Care Center, and ALTUS Hospice for all of the assistance kindness, compassion, and loving care they provided to Ruth the last two years of her life.
Visitation will be held at the Crowder Funeral Home, 1645 East Main Street, League City on Wednesday, February 11th from 6:00 pm to 8:00 pm. Funeral Services will be at Gloria Dei Lutheran Church, 18220 Upper Bay Road, Nassau Bay at 2:00 pm on Thursday, February 12th. Interment will follow at Galveston Memorial Park Cemetery in Hitchcock. Memorials may be sent to Gloria Dei Lutheran Church in Nassau Bay in Ruth's name.
Surely goodness and mercy shall follow me all the days of my life, and I shall dwell in the house of the LORD forever. Psalm 23.